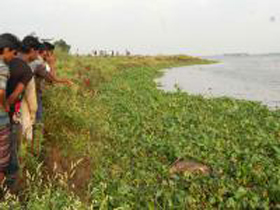 Bangladesh Bar Council vice-chairman Khandker Mahbub Hossain on Saturday said the Prime Minister cannot avoid the responsibility of the killing of lawyer Chandan Kumar Sarker and six others in Narayanganj.
"You (PM) are responsible for ensuring the security of the country's people as you're in charge of the Home Ministry. You must shoulder responsibility for your failure to give security to people," he said.
Mahbub was addressing a meeting at the Jatiya Press Club arranged by the Bangladesh Bar Council in protest against all the secret killings, including that of Chandan Sarker, abductions and forced disappearances.
He urged the Prime Minister to quickly arrest the killers of Narayanganj seven murders and bring them to justice. "Or else, you must stand in the dock of people."
Mahbub, also an adviser to BNP chairperson Kahleda Zia, said this government has no responsibility to people as it has not been elected with people's vote. "The government is making mockery with people's lives."
He alleged that the government has lost control over the law enforcers by using them for making its political gains. "The law enforcers are rather controlling the government."
The Bangladesh Bar Council vice-chairman called on the government to issue a press note so that no member of any government force can arrest anyone in plainclothes.
Mahbub also warned the government not to antagonise the lawyers by sparing Chandan's killers.
Source: UNBConnect