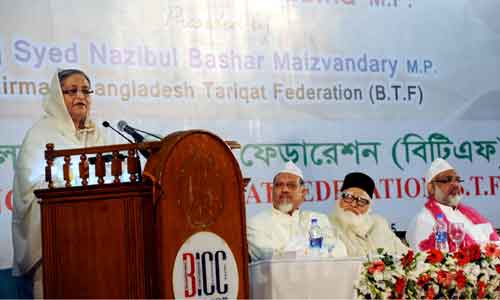 The prime minister, Sheikh Hasina, on Saturday urged all the Muslims, including Islamic scholars, to resist the evil politics of Bangladesh Nationalist Party-Jamaat-e-Islami as they were undermining Islam through their heinous acts of burning people to death, reports United News of Bangladesh.
She also called upon the Muslims, including pir, mashayekh and ulema, to come forward to play a strong role in bringing back those to the true path who are doing politics in the name of Islam, misguided by the BNP-Jamaat.
The prime minister made the call while addressing the inaugural function of the daylong International Sufi Conference 2015 at Bangabandhu International Conference Centre.
Islamic scholars from home and abroad, including India, Germany, England and Russia, are participating in the conference organised by Bangladesh Tarikat Federation.
Referring to the vandalism, killing and setting fire to vehicles by BNP-Jamaat clique before the last general election, the prime minister said they were again out there on the streets to kill people hurling petrol bombs and burning innocent citizens to death in the name of politics.
She also said BNP-Jamaat always uses Islam for their political gains but show little respect to the religion of peace. 'They have no respect for Islam …That is why they enforced agitation programmes during even Biswa Ijtema and on holy Eid-e-Miladunnabi.'
Hasina said Biswa Ijtema was the second largest Muslim cogeneration as hundreds of thousands of Muslims from across the world assemble on the bank of the Turag River.
The prime minister said the BNP-Jamaat nexus did not even spare holy Miladunnabi, the anniversary of birth and demise of Great Prophet Hazrat Muhammad (SM), from their agitation programmes.
'Bangabandhu Sheikh Mujibur Rahman declared Miladunnabi as the public holiday, but BNP-Jamaat imposed blockade and hartal on that day. BNP-Jamaat did not show minimum respect to our beloved Prophet (Pbuh) and they killed people on that day, too. What do they actually want?'
She called upon the country's pir, mashayekh and Islamic scholars to come forward to create public opinion against burning people to death and reach the essence of holy religion Islam to the general public.
Terming Islam as a religion of peace and progress, Sheikh Hasina said, there is no place of terrorism and destructive activities in this holy religion.
Chairman of Tarikat Federation Syed Nazibul Bashar Maizbhandari, MP presided over the function while its secretary general MA Awal, MP and dean of diplomatic corps and ambassador of Palestine Shaer Mohammad spoke on the occasion.
Source: New Age