Reviewed by Nazmus Saquib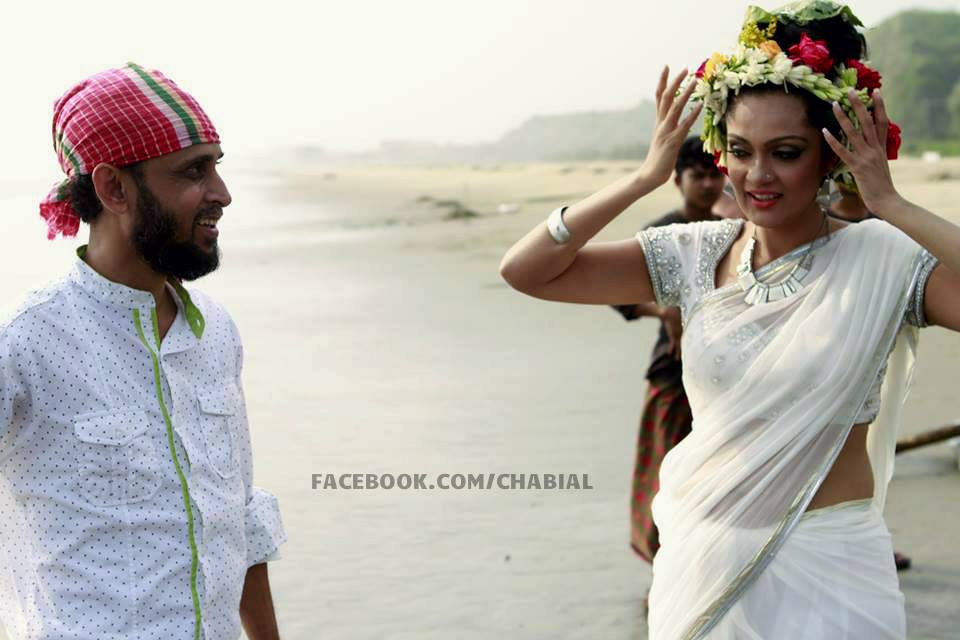 Eminent filmmaker Mostofa Sarwar Farooki doesn't like to take the conventional route to success. He has a unique style of storytelling that is especially loved by the urban youths. Perhaps that's the reason why each of his new release is always warmly received by his loyal fan base who do not mind standing in long queue of a cinema hall to grab a ticket. Farooki's latest feature film 'Piprabidya', which is released on 24 October, ten months after his previous film 'Television' is no exception to this. However this fifth feature film of Farooki has created tremendous curiosity even before its official release due to a number of reasons. Firstly: the main protagonist is a debutant actor sans any previous film background to his credit (he was just an assistant to Farooki in his last film 'Television). Secondly: the female protagonist and the main supporting casts are also new faces (barring Mukit Zakaria). Thirdly: the film trailer has hardly anything for the viewers to guess about the storyline. So has 'Piprabidya' lived up to its expectations? Can Mostofa Sarwar Farooki score brownie points on his fifth directorial venture as a filmmaker? Let's analyze:
The story of 'Piprabidya' is written by Mostofa Sarwar Farooki and the story basically revolves on its lead pair: Nur Imran Mithu (as Mithu) and BPL famed host Sheena Chohan (as Rima). Mithu represents the youths of Dhaka belonging to the lower middle class family background. Mithu has high ambitions but doesn't have the brain and skills to shine in a city like Dhaka. Initially he works as a commission based sales person of a cigarette company and later joins at a MLM (Multi Level Marketing) Company. He is brainwashed by his boss Mukit Mithu (played by Mukit Zakaria) to bring more clients in order to get more commission. Mukit Mithu even gives some money to Mithu to buy an attractive cell phone. Mithu then buys a second hand cell phone from the black market and unfortunately that cell phone is the stolen cell phone of a renowned actress named Rima. Rima threatens Mithu to give her cell phone back. In the meantime, Mithu discovers an intimate video between Rima and her boy friend in that cell phone and he makes a copy of that to his another cell phone. He returns the cell phone to Rima and Rima is now highly impresses by his honesty. Mithu even convinces Rima to invest in the MLM Company. However everything does not remain rosy after a certain point of time. Mithu gradually discovers he is being trapped in the MLM Company business and as a result of this, investors are demanding their money back from him. Besides, Mithu also shows his evil side to Rima and threatens her with dire consequences if she does not comply with his sexual desires. After a certain point of time, Rima bursts out in anger due to constant blackmailing of Mithu and she also prepares for revenge. So what happens in the culmination? Will Rima be able to rid herself from Mithu's threat? Will Mithu be able to lead a normal life after a dip in his personal equation with Rima and subsequent disaster in MLM business? Well, to know all these you have to watch the film.
Now let's analyze direction, acting and other technical aspects of the film. The film is crisp razor sharp when it comes to editing and it has a runtime of 95 minutes only. Credit should be given to Mostofa Sarwar Farooki and Khaled Mahmud Rajan for jointly doing one of the finest editing jobs in recent memory. Golam Maola Nobir has done the cinematography of the film. The story does not require any picturesque locales and therefore Nobir has very limited scope to do something extravagant. The film is not music based however the background score and situational track is not bad either. Hridoy Khan, Armanul Haque and Chirkut band have contributed to the music of the film (although Chirkut's promotional song 'Hero Hoite Ar Ki Laage' has not been used in the film). Nur Imran Mithu as the main protagonist does a stellar performance. It is hard to believe it was his debut performance. Sheena Chohan also enacts her role beautifully. The other supporting casts do not disappoint either. The film is produced by Impress Telefilms Limited under Farooki's production house Chabial and marketed by Jazz Multimedia. They deserve to be applauded for investing in an 'unconventional' film like this which is needed to be appreciated due to its quality content.
'Piprabidya' has already won laurels at international festivals in Busan, Sanghai, Melbourne and Dubai. International film critics have given rave reviews to the film. Farooki is known for his own unique style of filmmaking which has its strong fan base. On the whole, 'Piprabidya' will not disappoint these target audiences as it has got its inimitable Farooki stamp all over it. The film boasts with plenty of laughter quotient. But despite such positives, a legitimate question one may ask is whether our mass rural audiences have matured enough to be able to appreciate a film like this which has no action scene, typical romance and musical scores. Well, only time can answer this. But this reviewer, who wishes Bangla film industry's overwhelming success at the international domain, believes more such films need to be patronized if we are to compete with rest of the world. Final words: 'Piprabidya' is a smart film with smart execution of a contemporary story. This one should not be missed if you root for a quality Bangla film.