People want govt's removal, not expulsion of few leaders: BNP
Nayadiganta English Desk    23 October 2019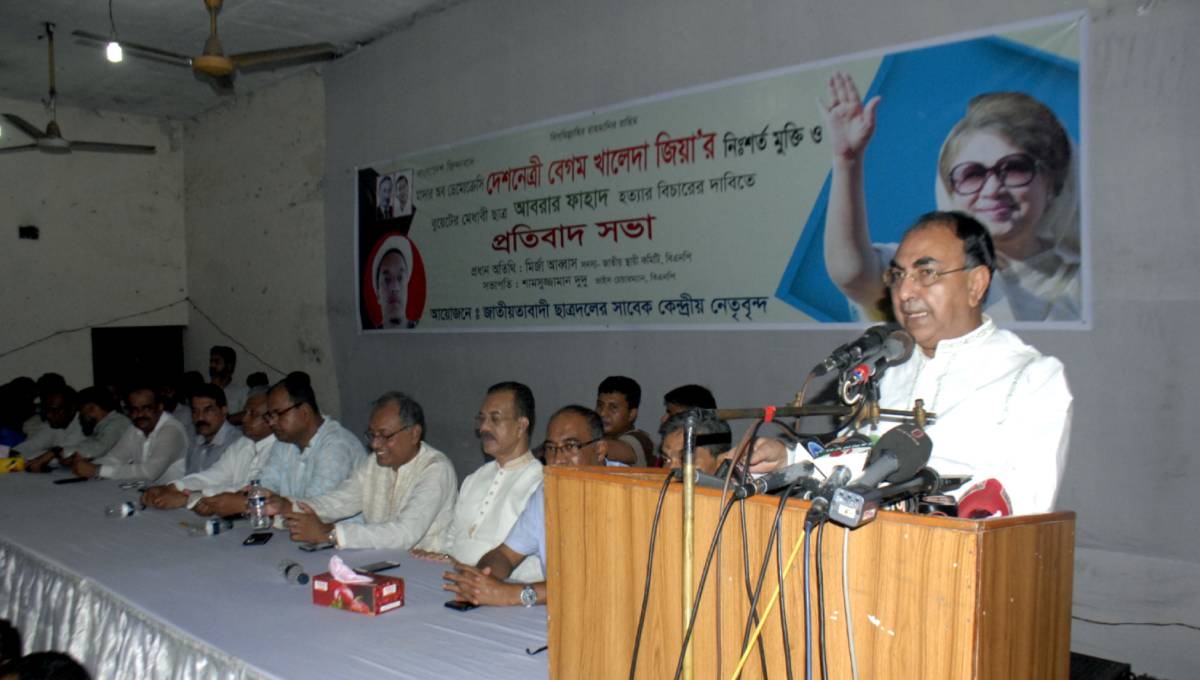 BNP senior leader Mirza Abbas on Wednesday said people want to see the removal of the current government from power, not the expulsion of a few ruling party leaders, for the 'restoration' of good governance in the country, UNB reports.
"The bank accounts of Omar Faroque (removed Jubo League president) have been frozen while Swechchasebak League president has been relieved of his post. Actually, people want the removal of the government, not the expulsion of some street urchins and goons," he said.
Speaking at a protest rally, the BNP leader further said, "I would like to say good governance won't be restored in the country without the removal of the current government."
Former leaders of Jatiyatabadi Chhatra Dal arranged the programme at the Jatiya Press Club protesting the killing of Buet student Abrar Fahad and demanding the release of BNP chairperson Khaleda Zia.
Abbas, a BNP standing committee member, said the educated and brilliant students of Buet killed Abrar as their 'big brothers' instructed them to do so. "Abrar's murder has manifested that the government is trying to make the nation intellectually bankrupt."
He regretted that slain Abrar's younger brother went back to his village home leaving the capital out of fear for his life as the government could not ensure security for him.
The BNP leader demanded the government ensure exemplary punishment to the killers of Abrar and provide his family with proper compensation.
The BNP leader criticised the government for what he said killing innocent people in Bhola over holding a rally. "Where's now the country's independence? Even, no one now can speak freely as people are killed like birds."
EX-JCD president and BNP vice chairman Shamsuzzaman Dudu said the government has kept their party chairperson Khaleda Zia in jail in an effort to hang onto power depriving people of their fundamental rights. "Had the government had the minimum sense of shame, it would have freed Khaleda Zia long ago."
He called upon the people of all walks of life to take to the streets to free Khaleda Zia and save the country from the current 'autocratic rule'.
Another ex-JCD president and Ducsu VP Amanullah Aman urged the BNP high command to take a programme of accepting voluntarily imprisonment by party leaders and activists if Khaleda is not freed. "We must wage a strong movement to ensure our leader's release."