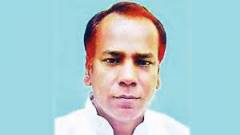 A Narayanganj court on Tuesday sentenced Nur Hossain, the prime accused in the sensational seven-murder case, to one year's imprisonment for keeping wild animals illegally.
Senior Judicial Magistrate HM Shafiqul Islam handed down the verdict, said Narayanganj district Court Police inspector Habibur Rahman.
The court also fined him Tk 50,000, in default, to suffer three months more in rigorous imprisonment.
According to the prosecution, police conducted a raid on the house of Nur Hossain at Shimrail Tekpara under Siddhirganj upazila on May 15 this year following a court order to seize his movable property.
During the drive, the law enforcers rescued a number of pet animals and birds, including three Macaw birds, from his residence.
Fore Mohammad Fazlul Haque of Gazipur Forest Department office filed a case under the Wild Animal Preservation and Protection Act on May 18.
Nur Hossain is now in an Indian jail following his arrest in Kolkata on June 15.
On April 27, Narayanganj panel mayor Nazrul Islam and his three associates and driver were abducted from Fatullah area in Narayanganj city. At the same time, senior lawyer of the Narayanganj District Judge's Court, Chandan Kumar Sarker, and his driver were abducted on their way to capital Dhaka.
Three days into their abduction, the bodies of six people, including that of Nazrul and Chandan, were recovered from the Shitalakhya and Dhaleshwari rivers on April 30. Besides, the body of Jahangir, the car driver of Nazrul Islam, was recovered from the Shitalakhya River on May 1.
Source: Prothom Alo