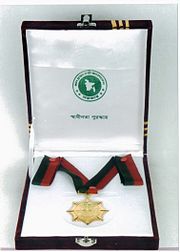 The government has nominated nine personalities and Bangladesh Agricultural Research Institute (Bari) for the Swadhinata Award-2014.
Of the nine personalities, seven were selected fort the award in recognition of their glorious and outstanding contributions to the country's education and culture and the Liberation War.
Bari has been chosen for the award for its outstanding contributions to development in the country's agriculture, said handout on Sunday.
The other awardees are M Abul Khayer (Posthumous), Shaheed Munsi Kabir Uddin Ahmed, (Posthumous) Shaheed Kazi Azizul Islam, (Posthumous), Lt Col  (retd) Abu Osman Chowdhury, Dr Khosruzzaman Chowdhury (Posthumous), Martyred SBM Mizanur Rahman (Posthumous), Dr Mohammad  Haris Ali (Posthumous) for Liberation War, Principal Md Kamruzzaman, (Posthumous) for education and artist Qaiyum Chowdhury for culture.
Prime Minister Sheikh Hasina will formally hand over the awards at a function at Osmani Memorial Auditorium on March 25.
Swadhinata Award (Independence Award) is the highest state award given by the government.
The award is bestowed upon Bangladeshi citizens or organizations in recognition of substantial contributions to one of many fields, including the War of Liberation, the language movement, education, literature, journalism, public service, science and technology, medical science, social science, song, games and sports, fine arts, rural development, and other areas.
The award carries a gold medal, cash and a citation.
Source: UNBConnect