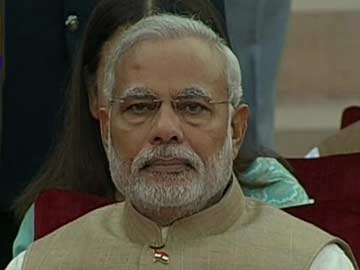 Narendra Modi has been sworn in as India's 15th Prime Minister at the Rashtrapati Bhawan, home of President Pranab Mukherjee, who administered the oath.
Among the almost 4000 guests gathered in the forecourt of the presidential palace, are leaders of eight neighbouring countries, including Pakistan Prime Minister Nawaz Sharif, who is seated next to Mr Modi's predecessor, Manmohan Singh. On Dr Singh's other side is Hamid Karzai, President of Afghanistan.
Mr Modi's 95-year-old mother Hiraben could not make it to Delhi and watched her son being sworn in as Prime Minister on television at her home in Gandhinagar.
Forty four ministers are being sworn in along with Mr Modi; BJP president Rajnath Singh will be his number 2 in government as Home Minister. Among the top ministers is Arun Jaitley who will be Finance Minister and will also have the additional charge of Defence. (Also read: Modi's Chai Pe Charcha With Ministers-To-Be)
Sushma Swaraj, senior BJP leader, will be Minister for External Affairs. Twenty three Cabinet rank ministers, 10 Ministers of State with Independent charge and 11 Ministers of State will take oath today.
Last night, Mr Modi promised that he would head a lean Cabinet with a focus on "minimum government and maximum governance". He is expected to merge and restructure several ministries.
Source: UNBConnect