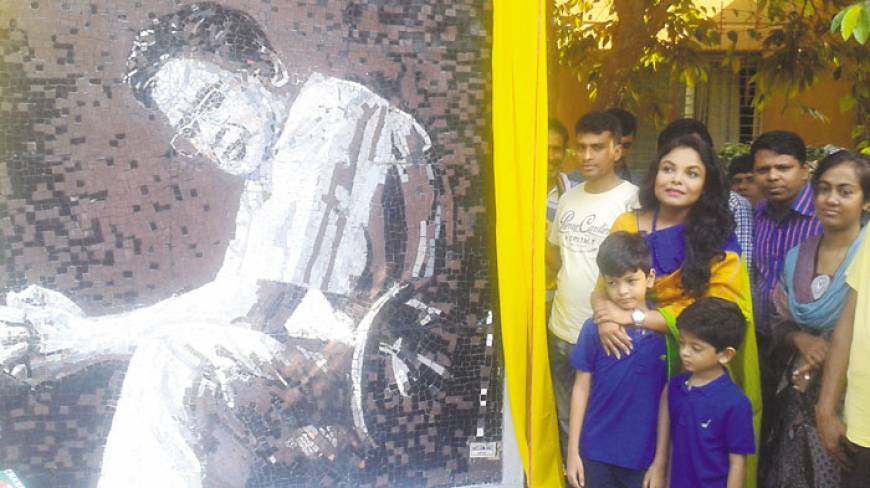 The 67th birth anniversary of popular author dramatist and filmmaker Humayun Ahmed was observed at Nuhash Palli in Gazipur yesterday with avid love and respect.
Hundreds of fans of the late writer gathered at Nuhash Palli from the morning in order to pay respect and observe the day.
A mural of Humayun was unveiled at Nuhash Palli by Humayun's wife and actor Meher Afroz Shaon and their sons Nishad and Ninit around 9:40am. After that, the family, accompanied by the fans, placed a floral wreath on his grave.
Later, they cut a cake to celebrate the writer's birthday in front of the mural.
"I cannot tolerate the word "late" before his [Humayun's] name. I think writers and artists such as him cannot die; they live forever through their works," Shaon said.
"I had wanted to build a mural in memory of Humayun. An organisation named Sona Rong took the initiative to build it and finished it fairly quickly. They built it using a photo of Humayun taken by photographer Nasir Ali Mamun."
She thanked everyone involved with the project for the work.
The architect of the mural, Hafiz Uddin Babu, who was present on the occasion, said it was an honour to build the mural of the writer as he was a fan himself.
"It is the first mural of any writer in the country. It took us around 25 days to complete the work. I hope to build more murals of Humayun Ahmed across the country."
Meanwhile, Shaon said she wanted the state to take initiatives to observe Humayun's birthday around the country.
"I believe the government should come forward and take it upon itself to celebrate the birth anniversary of Humayun. He was a national treasure, after all."
Earlier, the staff of Nuhash Palli lit 800 candles around the premises at 12:01am to celebrate Humanyun's birthday. "This is how Sir [Humayun] liked to celebrate his birthday, so we are doing it to celebrate this day and to remember him," said Saiful Islam Bulbul, manager of Nuhash Palli.
Source: Dhaka Tribune