10,182 cases filed in 2002-2013, 196 in 3 months this year; probe in over 3,000 cases yet to start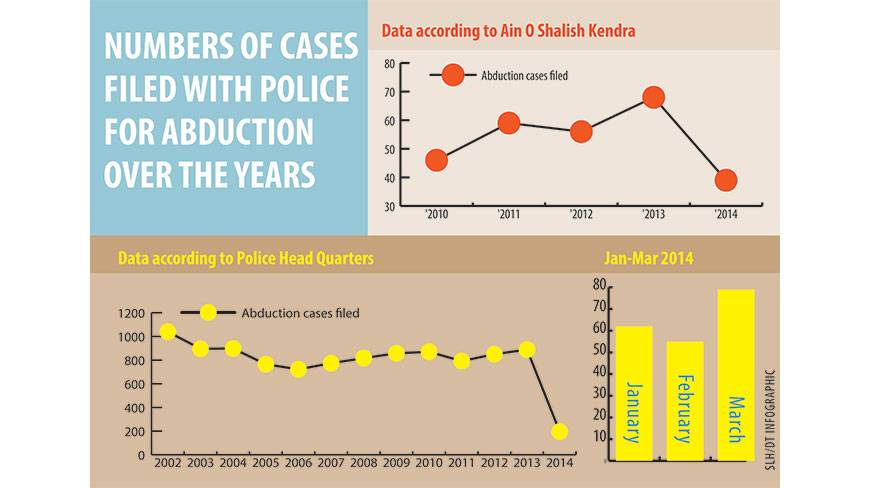 Bangladesh Chhatra League leader Tanvir Hassan Anjan, also an MBA student of Shanta Mariam University of Creative Technology, went missing from Uttara area on January 28 this year.
Two general diaries were filed with Bhatara police station (no 1475) on January 29 and with Uttara west police station (no 371) on February 6.
Moreover, the victim's family submitted written applications to the Rapid Action Battalion, Detective Branch of police, Dhaka Metropolitan Police commissioner, Inspector General of Police and state minister of home requesting proper investigation into the incident. But there has been no trace of the victim and no progress in the probe made till date.
Family sources said Anjan had gone out of his house on road 1 of sector 13 in Uttara after having lunch around 3pm on January 28 on his personal motorcycle (Dhaka Metro-La-21-2076).
His friend Tanvir's younger brother Sunny was with him. Leaving Sunny at the intersection of road 1, Anjan was returning home after borrowing Tk5,000 from him, but did not reach home as yet.
His mobile phone ringed until the next noon, but no one answered. After 1pm, it was found switched off.
Police recovered his motorcycle from the Airport police station area on February 9 but failed to get more information about the victim who was the organising secretary of Chhatra League's Bhatara unit of the capital.
Anjan's case is not the only one in which the law enforcers have failed to trace the victim of abductions. A number of political leaders, businesspersons, doctors and noted individuals have gone missing in the last couple of years.
Besides the ruling party leaders, a number of leaders of other parties are also missing. Family members of the victims claimed that the abductors had not demanded money after their disappearance.
According to the statistics of human rights watchdog Ain O Salish Kendra (ASK), at least 268 people were abducted between 2010 and March this year. Of them, bodies of 43 persons were found, 24 released while 14 handed over to police.
However, the remaining 187 people are still missing and their families and the law enforcers do not know anything about their whereabouts.
The maximum number of abductions took place during first three months of the current year when 39 people were abducted, says ASK.
Among them, 11 were BNP leaders, four service holders, four Chhatra League leaders, three Jatiyatabadi Chhatra Dal leaders, two Islami Chhatra Shibir leaders, one Jamaat-e-Islami leader, three businesspersons and 11 general people.
Of the 39, bodies of only 12 persons were recovered, but the fate of remaining others is still shrouded in mystery.
The figure of crime cell of the Police Headquarters reveals that a total of 10,182 cases and general diaries were filed regarding abductions across the country since 2002 until last year.
Even though the ASK reports about 39 abductions this year, police said a total of 196 cases were filed.
More significantly, the law enforcers have totally failed to start investigation of over 3,000 cases registered after 2002, alleged a source.
Asked why not initiate probe in so many cases, Inspector General of Police Hassan Mahmood Khandker refuted the allegation. He affirmed that the law enforcers had conducted investigation in every abduction incident.
"During investigation, police unearth mystery behind the incidents. But it takes some time in some cases," he said.
The IGP further states that if any specific complaint comes up against any official of the law enforcement agencies, action follows against the accused after investigation.
BNP leader and former lawmaker Ilias Ali went missing around two years ago and the law enforcers so far submitted 36 progress reports to the court.
Like Ilias, police have also failed to make any headway in the abductions of BNP's Laksham upazila unit President Saiful Islam Hiru and municipality unit President Humayun Kabir.
They were arrested allegedly by some RAB personnel on November 27 last year. Joint Organising Secretary Jasim Uddin of the same unit was also picked up at that time.
However, Jasim was later handed over to Laksham police the same night. The law enforcers have failed to trace the two others.
President of the Awami League's ward 41 unit Hazi Nur Mohammad was abducted on October 19, 2011 from his residence in Savar. His son-in-law Abdul Mannan and Mannan's friend Iqbal were working to trace him. However, they were also abducted from the capital's Agargaon area on December 3 and have remained missing until date.
Hazi Mohammad Wazi Ullah, president of Dhaka Super Market Owner's Association in Bangabazar area, went missing in 2011.
Police are yet to trace him while the abductors did not demand anything for his release. Jubo League leader Liyakat Hossain was picked up from his own residence on Dhanmondi 27 on November 26, 2008. He has since remained missing and no progress yet been made.
The abduction cases of Jubo League leader of Feni's Sonagazi upazila unit Sarowar Jahan Babul, Dhaka's ward 98 Jubo League Organising Secretary Tushar Islam Titu and Pallabi unit Awami League's Relief Affairs Secretary Abdul Karim Howlader are still unresolved.
In this regard, Asaduzzaman Khan Kamal, state minister for home affairs, told the Dhaka Tribune: "We have already given special instruction to the authorities concerned to complete the investigations of old abduction cases and the general diaries filed with different police stations."
He observes that usually, a group of people after abduction puts the blame on the law enforcers.
"Those who are responsible for these heinous acts will not be spared and the persons still missing must be rescued following fair investigation," he added.
Source: Dhaka Tribune