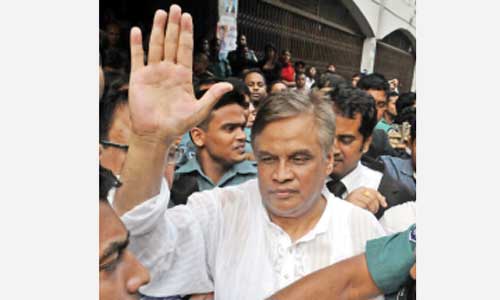 Separate Dhaka courts on Sunday sent Bangladesh Nationalist Party joint secretary general Amanullah Aman to jail in a number of cases filed for arson attacks and vandalism during the BNP-led 20-party alliance's blockade and hartal programme.
Ten Chief Metropolitan Magistrate Courts, one Senior Judicial Magistrate Court and one Metropolitan Sessions' Judge Court sent the BNP leader to jail rejecting his bail petitions in 56 cases when he surrendered before the courts in 71 cases in the morning.
Of the 71 cases, Aman was granted bail in seven filed with Paltan, Motijheel, Jatrabari, Khilgaon and Savar police stations while the hearing on eight more cases was deferred as the case documents were not produced before the court.
Meanwhile, four Chief Metropolitan Magistrate Courts granted bail to BNP standing committee member MK Anwar in six cases filed for arson attack and vandalism with Khilgaon, Paltan, Motijheel and Jatrabari police stations.
Metropolitan Magistrates Ashoke Kumar Dutta, Aminul Haque, Asaduzzaman Nur and Tarek Mainul Bhuiya passed the orders when he surrendered before their courts on completion of his four-week bail granted by the High Court earlier.
Meanwhile, hearing on the bail petition filed by BNP chairperson's adviser Abdul Awal Mintoo in a case filed with Paltan police was also deferred for lack of case document.
Earlier, three senior BNP leaders MK Anwar, Abdul Awal Mintoo and Amanullah Aman surrendered before separate Dhaka courts in the cases filed for arson attacks and vandalism. On July 27, the Appellate Division of the Supreme Court ordered the three BNP leaders to surrender before the lower court.
Source: New Age