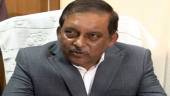 The name of Home State Minister Asaduzzaman Khan Kamal has been found on the "hit-list" drawn up by Islamist extremists.
Former Dhaka University vice-chancellor AK Azad Chowdhury on Tuesday received a death threat through a letter, which contained the list of of seven noted personalities, including the junior home boss.
The letter, apparently by Ansarullah Bangla Team-13, was sent to Ak Azad's house in Dhanmondi by post on Tuesday, 14 days after the present Dhaka University Vice-Chancellor, AAMS Arefin Siddique, received a similar threat by post.
The previous one was apparently sent by Alkaida (sic) – Ansarullah Bangla Team:13.
The name of HT Imam, political affairs adviser to the prime minister, has been mentioned on the top of the list of the 10 noted personalities.
The list also included DU teacher Kaberi Gayen, science fiction writer Professor M Zafar Iqbal, ruling party MP Tarana Halim, spokesperson of Gonojagoron Moncho faction Imran H Sarker, Bikash Saha, Md Iqbalur Rahim and Paltan Sutar.
When contacted, Dhanmondi police station OC Noor-e-Azam Mia told the Dhaka Tribune: "Seven people, including DU acting Proctor Amzad Ali, have been listed in the latest letter."
"The others are Jahurul Haque Hall Provost Delwar Hossain, Arts Faculty Dean Akhtaruzzaman, actor Shomi Kaiser and one Abu Musa M Masuduzzaman Zakaria."
A General Diary was filed in this connection around 5:30pm on Tuesday and the police are trying to trace the culprits, said the OC.
Regarding the fresh threat, DU VC and acting proctor blamed law enforcers and said their failure in arresting the criminals have encouraged the militants to issue fresh threats.
While talking to our DU Correspondent Arif Ahmed, they requested the law enforcers to strengthen security in the areas in which the recipients reside.
Recently, late professor Humayun Azad's son Ananya Azad also received a similar threat.
Ananya told The Guardian that he feared he would be the next to die after three others as his name was on a "hit-list."
On Tuesday, writer Taslima Nasreen relocated to US from India in the wake of the murder of three secular bloggers, Avijit Roy, Washiqur Rahman, and Ananta Bijoy Das in Bangladesh.
A militant group known as the Ansarullah Bangla Team was banned recently after being linked by police to the three murders, becoming the sixth Islamist group to be outlawed in Bangladesh.
On February 26, prominent Bangladeshi-American blogger Avijit Roy was hacked to death while walking through Dhaka with his wife.
Almost exactly a month later, Washiqur Rahman was cut down with machetes in a frenzied attack in the same city by a group of men believed to be religious students.
On the day of his death his Facebook profile still carried a tribute to Roy with the hashtag #IamAvijit as his profile picture and slogan "words cannot be killed."
Ananta's murder was the first outside Dhaka, taking place in the north-eastern city of Sylhet.
He was believed to be a writer for the Mukto Mona website, which had been moderated by Roy before his death.
Source: Dhaka Tribune