Planning Minister AHM Mustafa Kamal has assured 7% growth in the current fiscal and has asked cynics to have faith in him and Prime Minister Sheikh Hasina.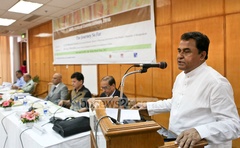 Speaking at a seminar titled "The Bangladesh Journey" at the Bangabandhu International Conference Center, Kamal reiterated that the country would attain a 7% GDP growth rate in the current fiscal.
About a fortnight ago he had quoted the Bangladesh Statistical Bureau's data for the first 6 months of 2015-16 (July-March) to underpin his claim of a possible growth of 7.5%. He had made the same claim in the budget session of the parliament as well.
But his claims were watered down by the World Bank and the Asian Development Bank's figures that ruled out the possibility of 7% growth and estimated a 6.7% growth rate.
The IMF puts it at 6.3%.
"Have faith in the prime Minister and me", Kamal said, adding that only at the end of the year it would be known who was right.
Addressing the issue of an inadequate disinvestment rate, the minister said, "Malaysia and Vietnam achieved higher growth figures with a lower disinvestment rate".
Economists generally believe that a 30% disinvestment is a prerequisite for a 7% growth.
Conceding that there was still some disparity in the country's growth model, he assured that the government was working to set it right and bring more uniformity to the growth pattern.
He said that lowering of taxes on essential commodities and increasing taxes on high income citizens are on the cards.
Source: bndews24