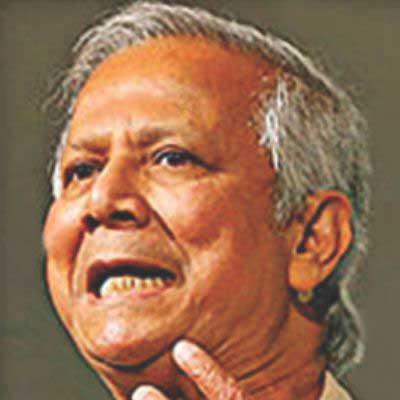 Microcredit guru Prof Muhammad Yunus has been named one of the top six business pioneers in finance by The Financial Times.
The UK-based international newspaper selected the founder of Grameen Bank as one of the 50 business pioneers of all time.
By successfully implementing his microcredit idea through Grameen Bank, Prof Yunus showed the world how bringing banking to the unbanked people could make a big difference.
His championing of small loans to the poor in Bangladesh — and the related idea of social business — has spread around the world, including in the US, according to the FT.
The efforts won Yunus and the bank a joint Nobel Peace Prize in 2006.
"Yunus's long-term vision is to eliminate poverty in the world," the jury concluded.
"That vision cannot be realised by means of microcredit alone. But Muhammad Yunus and Grameen Bank have shown that, in the continuing efforts to achieve it, microcredit must play a major part."
Established in 1983, the bank has now over 86 lakh members. On an average, it lends Tk 1,000 crore to Tk 1,200 crore per month and realises Tk 1,000 crore. It has 2,566 branches across the country.
Yunus is joined by Warren Buffett, called "the greatest investor ever" by the FT, Amadeo Giannini, who revolutionised banking in the US, American businessman Henry Kravis, financier John Pierpont Morgan, and founder of the Rothschild banking dynasty Mayer Amschel Rothschild in the select group of financial pioneers.
The selection was based on suggestions from the readers, from the six judges and from FT writers around the world, according to the newspaper.
Michael Skapinker, an FT columnist and associate editor, chaired the judging panel, which also includes Jannik Lindbæk Jr, vice-president of corporate communications at Statoil, the Norway-based international energy company, Jaideep Prabhu, professor of marketing at Judge Business School, the University of Cambridge, Jessica Spungin, an adjunct associate professor of strategy and entrepreneurship at London Business School, Heather McGregor, chief executive and principal shareholder of executive search firm Taylor Bennett, and John Gapper, FT's chief business commentator and an associate editor.
Source: The Daily Star