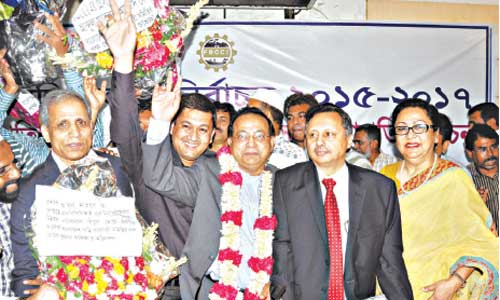 Nitol Niloy Group chairman Abdul Matlub Ahmad on Monday was elected president of the Federation of Bangladesh Chambers of Commerce and Industry for the period of 2015-17 as no other director submitted nomination for the post.
Md Shafiul Islam Mohiuddin, former president of Bangladesh Garment Manufacturers and Exporters Association was elected first vice-president of the apex trade body while Mahbubul Alam was elected vice-president from the Chittagong Chamber of Commerce and Industry.
All the newly elected office bearers were nominated directors. Matlub was nominated from Rajshahi Chember, Shafiul from the BGMEA and Mahbubul Alam from the CCCI.
According to the business leaders, as the office bearers of the FBCCI were elected as per the choice of the government high ups no other directors submitted nomination papers.
Chairman of the Election Board Ali Ashraf on Monday primarily announced the names of the newly elected president, first vice-president and vice-president as only three candidates against three posts submitted nomination papers.
Ashraf said that the final result will be announced on May 28.
Matlub Ahmad-led panel Unnayan Parishad swept the election to the board of directors of the Federation of Bangladesh Chambers of Commerce and Industry winning 25 posts of directors out of 32 from the chamber and association groups.
At the starting of the election campaign, Unnayan Parishad claimed that the panel was blessed by the government and Matlub got green signal for the post of president of the FBCCI.
On the election day, the apparel sector leaders met the prime minister and demanded the post of first vice-president for the former BGMEA president Shafiul Islam, a business leader told New Age.
He said that the prime minister pledged to fulfill their demand and the office bearers have been elected as per the direction of the government high ups.
The biennial election of the apex trade body was held on Saturday.
Unnayan Parishad won 12 posts out of 16 from the chamber group and 13 posts out of 16 from the association group to lead the country's business community for the term 2015-17.
The incumbent vice-president Monowara Hakim Ali-led panel Swadhinata Business Forum got four directors from the chamber group and Syed Moazzam Hossain-led Bebshayee Oikkya Parishad won three director posts from association group.
According to FBCCI rules, 32 directors are elected through direct voting – 16 from Chamber Group and as many from the Association Group, while 20 directors are nominated by the 10 leading chambers and 10 associations.
Earlier, Monowara Hakim Ali was an aspirant for the post of president but she did not contest for the post as her panel failed to take lead in the election.
Source: New Age