During the first 1,000 days of life – from conception to age two – children need enough energy and nutrients to fulfill their growth potential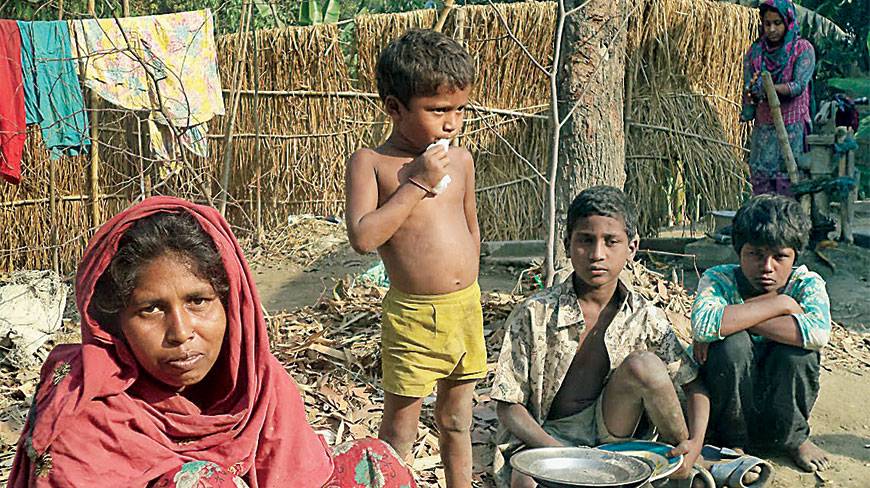 Rice with potato is almost an everyday menu of Abdul Mazid who works as a farmer, with more than 70% of his daily income on an average being spent on buying food for his five-member family.
The 37-year-old father of three children needs Tk200 to feed his family every day.
"At best small fish is sometimes added to our menu," Mazid said, standing near his shabby house on a small piece of land in Chargobindapur village under Pabna district.
But there was hardly any work in 10 days out of a month, forcing his family to keep half-fed or even unfed.
"Days pass without foods some days," said Mazid with choking voice. The days are more painful once he falls ill.
He is the father of three children — a 12-year-old daughter, 11-year-old son and another 7-year-old son, all physically and mentally retarded – a problem caused due to malnourishment.
During the first 1,000 days of life – from conception to age two – children need enough energy and nutrients to fulfill their growth potential.
If not, both their bones and muscles grow slowly, leaving them paranormally short for their age, which is known as stunting. Poor nutrition in these early years not only affects physical growth but also the development of the brain.
Story of Mazid is not an isolated case in Bangladesh, home of around 6.3 million stunted children as of 2010, according to UNICEF.
Globally, malnutrition is responsible for 45% of all child deaths and leaves 161 million children stunted in 2013, the joint survey of UNICEF, WHO and World Bank found.
"Causes of malnutrition are multifaceted," said  Dr Md Munirul Islam, a scientist with the Centre for Nutrition and Food Security at the International Centre for Diarrohoeal Disease Research, Bangladesh (icddr,b).
He said usually lack of food security and awareness, and rising inflation are behind the malnutrition problem in Bangladesh.
Undernutrition puts children at greater risk of dying from common infections and increases the frequency and severity of such infections. It is irreversible, once it is occurred.
Malnutrition has far-reaching human, social and economic consequences that last for generations.
Malnutrition costs Bangladesh more than Tk7,000 crore ($1bn) in economic productivity each year, according to a joint survey of Bangladesh government and United States Agency for International Development (USAID) and Bangladesh Government in 2012.
If Mazid's three children are not stunted and start work at their 21s and work until 50, they can add to the economy to $2,311 each or over Tk1,84,000 as per the cost-benefit analysis.
If an effective intervention with providing sufficient quality foods, it costs around $97 or Tk776 per child with much of the expense coming from the provision of fortified supplementary foods, according to the findings of the world's leading experts on nutrition and economics Professor Susan Horton at the University of Waterloo and Professor John Hoddinott at Cornell.
On average, implementing the effective direct nutrition interventions raises incomes by 11.3%, the findings said.
If a Bangladeshi child is born in 2015, benefiting from effective intervention during conception and infancy and joining the work force at age 21, over his lifetime, he will earn the average per capita income of a Bangladeshi.
If this person works until they are 50 years old and uses a conservative 5% rate, switching this child from stunted to not stunted increases the present value of their lifetime by more than Tk1,84,000.
These income calculations are for different numbers of working years and different discount rates.
If individuals work together, the present value of these monetary benefits gets larger. If these incomes gain and cost as a ratio—the benefit cost ratio becomes smaller if individuals work until they are 60 with a 3% discount rate, every taka spent on direct nutrition interventions generates Tk77 in benefits.
"And there are other benefits of reductions in stunting. Nutrition interventions would reduce deaths by children under five by 15%."
Like Mazid's children, around 7 million children suffer from stunting in Bangladesh and are vulnerable to dying at any given time due to malnutrition, said the icddr,b scientist Munirul Islam.
"Any health related manifestation that has a 15% of prevalence rates needs immediate intervention in line with international practices."
Over the last decade, Bangladesh has made remarkable progress in fighting malnutrition. In 1997, the stunting rate was 58%, which declined to 41% in 2011, according to the Bangladesh Demographic Health Survey, 2011.
The number of stunting cases among children below five years of age also came down to 35% from 45% in 2010, according to Food Security and Nutritional Surveillance Project.
National Micronutrient Survey 2011-12 says only 20% of young children aged between 6 and 23 months receive the minimum acceptable diet.
Rice dominates and its low nutrient density likely contributes to the high rates of zinc deficiency.
According to undernutrition map unveiled in December last year, children under five suffered most from hunger in Sylhet division where 51.3% of children suffered from stunting and 39.5% were underweight.
Stunting rates are the highest in Bandarban district of Chittagong division, a hilly area, followed by Cox's Bazar district in the coastal belt of Chittagong division and Sunamganj district of Sylhet division which largely consists of haor (wetland) areas, the maps showed.
As many as 55 districts are above the World Health Organisation critical threshold level for underweight which is 30%. At the upazila level, 300 out of 544 upazilas have a stunting rate above 40% while 440 upazilas have an underweight rate above 30%.
Source: Dhaka Tribune