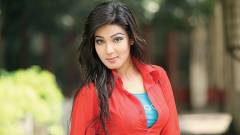 Mahiya Mahi, one of Dhallywood's busiest actors, recently announced her departure from acting via a Facebook post that has left fans stunned.
Following debut flick "Bhalobashar Rong" in 2012, the actress leaped into the limelight and spent just three years in Dhallywood. Now the "Agnee" actor is saying she will leave the silver screen.
Just before leaving for the USA, her post on Facebook on January 30 read: "'Agnee 2' will be my last film. I am going to the USA. Don't know when I would meet with everybody again. Will miss you all."
Though the reason for her retirement was a mystery and speculations abounded, an online news-portal reported that she was leaving the country to pursue higher studies.
She has appeared in 12 films till date, with 6 in the pipeline.
The sizzling starlet revealed her decision at a time when her latest ventures "Big Brother" and "Warning" are about to be released.
Source: Dhaka Tribune