The Hindu
Mission accomplished: Work in progress at the Sittwe port, Myanmar, in May 2012. The inauguration ceremony of the port is expected to take place next month.   | Photo Credit:  DAMI
A deep water port built in Myanmar's Sittwe on the Bay of Bengal by India is ready to be commissioned. An inauguration ceremony for this strategically important facility is expected to take place next month, according to Vikram Misri, the Indian envoy to Myanmar.
The Indian achievement pips to the post a Chinese endeavour to create a deep-sea berthing infrastructure and an SEZ further down the Rakhine coast at Kyaukphyu. The two investments are inevitably being seen as the Asian competitors attempting to expand their spheres of naval influence in the Indian ocean region as in the case of Gwadar in Pakistan and Chabahar in Iran being built by China and India, respectively.
Sittwe is the capital of Rakhine State (which has been in the news for the plight of Rohingya Muslims) in south-western Myanmar. It is located at the mouth of the Kaladan river, which flows into Mizoram in north-eastern India.
Construction of the sea port is the first phase of an integrated $500-million project being funded by a long-term interest-free loan provided by India. "Dredging of the river and inland water terminals are included in the plan," Ambassador Misri said.
India has for years sought transit access through Bangladesh to ship goods to the landlocked north-eastern States. At present, the only route to this region from the rest of India is a rather circuitous one through a narrow strip of Indian territory nicknamed the Chicken's Neck in West Bengal, sandwiched between Bhutan and Bangladesh.
"The strategic advantage would be that it would significantly lower the cost and distance of movement from Kolkata to Mizoram and beyond," Mr. Misri said. Once shipments arrive at Sittwe, they will be transferred to smaller freight carriers which would sail upstream into Mizoram.
Geopolitical theatre
The link was conceived by the Manmohan Singh government and work began in 2010. As with other Indian infrastructure ventures in Myanmar, though, the completion target of 2013 was missed.
Nevertheless, the port when unveiled will serve to make a statement in a country long dominated by China, but seen by the Myanmar historian Thant Myint-U, author of the book Where China Meets India, as a geopolitical theatre of competition between New Delhi and Beijing.
Notwithstanding its landslide victory in elections 13 months ago, the Aung San Suu Kyi-led National League for Democracy is constitutionally obliged to co-habit in government with the powerful armed forces, who ruled the nation for 54 years. But both sides are agreed on reducing their dependence on China.
Last month, Japan stepped forward with a $7.7 billion aid over the next five years, making it the biggest donor (India's assistance under different categories has been to the tune of $1.75 billion). But a senior western diplomat expressed surprise that India didn't move more aggressively to take advantage of Ms. Suu Kyi taking over the reins.
While foreign ministers from all continents queued up to call on Ms. Suu Kyi after she was appointed State Counsellor in early April, the Indian External Affairs Minister (admittedly hampered by illness) did not visit Myanmar until August.
Mr. Misri is, however, optimistic about a leap forward in the next two-three years. The two countries have exchanged drafts of proposed pacts to open several passport and customs control points on the India-Myanmar border to encourage vehicular traffic, with an aim of flagging them off within six months.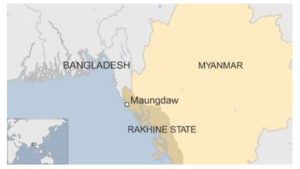 Also on the anvil are 10 border haat points to facilitate local economic activity between Mizoram, Manipur, Nagaland and Myanmar.
Meanwhile, Myanmar Airways International has just supplemented Air India's twice weekly service between Yangon and Kolkata to double the direct flights between the two cities.
(Ashis Ray is a London-based journalist currently in Myanmar.)