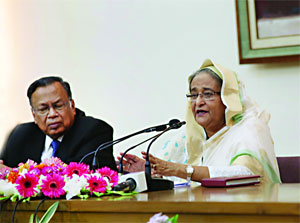 Prime Minister Sheikh Hasina has said her government will back Saudi Arabia in its fight against terrorism and support all initiatives it takes.
"We have responded to the Saudi call for support in the fight against terrorism instantly," she told newsmen at a briefing on her recent tour of several countries including Saudi Arabia.
Hasina described the Saudi effort to form a coalition to fight terrorism as a 'timely move'. "I have told the Saudi king that he can count on Bangladesh's support for any initiative to fight terrorism and for protection of the two Holy shrines of Makkah and Madinah," Hasina said. "We are even prepared to provide military support."
Hasina returned home last Tuesday night after a five day bilateral visit to Saudi Arabia. Before that, she attended the Global Women Leaders Forum in Bulgaria (18-20 May) and the G7 Outreach in Japan (26-29 May). The prime minister performed Umrah during her visit to Saudi Arabia. She had meetings with the Saudi King and several ministers of the kingdom, including the foreign and finance ministers.
The Saudi labour minister assured Hasina of his government's intent to source half a million workers from Bangladesh. Hasina said that Bangladesh has traditionally looked upon Saudi Arabia as a destination for labour exports. "But now there is a big change. They want to invest in Bangladesh big time. We welcome that and we are prepared to give them land for setting up units," Hasina told the press conference.
Last Sunday (June 5), Hasina met Saudi business leaders in Jeddah before her meeting with King Salman Bin Abdulaziz Al Saud. The business leaders promised to send a delegation to Bangladesh to explore investment opportunities.
The prime minister said 2 million Bangladeshis were now working in Saudi Arabia."Now they are also very keen to take doctors, engineers and teachers from Bangladesh," she said.
Hasina said that the women workers who will now go to Saudi Arabia from Bangladesh will be allowed to carry their husbands and children. "That is a qualitative change." She was happy with the outcome of the three visits.
Source: Weekly Holiday