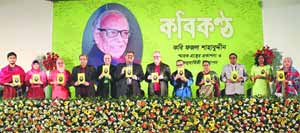 Kabikantho, a cultural organization of the poets, organised a programme at Bangladesh Shilpakala Academy on February 4 to pay homage to poet Fazal Shahabuddin on his 75th birth anniversary.
Kabikantho also published a memorial book on Fazal Shahabuddin as poetry lovers turned out enthusiastically for the event.
Among the notables present were Malaysian National Poet Dato Dr. Ahmad Kamal Abdullah and Dutch poet Dr. Germaine Droogenbroodt.
At the discussion session, guests including Fazal's close friend Harunur Rashid, shared their memories of Fazal. They also focused on the life and works of Fazal, terming him a poet with talents.
Later, elocutionist Camelia Mostafa read excerpts from one of Fazal's works.
Fazal, endearingly termed "a poet of nature", wrote several books and contributed significantly to Bangla literature. His talent found recognition when he received the Bangla Academy Literature Award in 1973 and the Ekushey Padak in 1988.
Source: Weekly Holiday