Islami Bank's new management has taken on a spirited approach to lending, with its loan-deposit ratio sitting dangerously close to the limit of 90 percent set by the central bank.
The new management took over at the beginning of the year, and in the following seven months, the bank's loan-deposit ratio surged 3.54 percentage points to 89.97 percent, according to data from the Bangladesh Bank.
The loan-deposit ratio is a commonly used statistic for assessing a bank's liquidity by dividing its total loans by its total deposits.
The spike in ratio has prompted the central bank to send a notice to Islami Bank, said a BB official.
As of July, the bank's total outstanding loans stood at Tk 62,924 crore, up 7.4 percent from December last year, according to data from the BB. During the period, its deposit grew 3.17 percent to Tk 69,938 crore.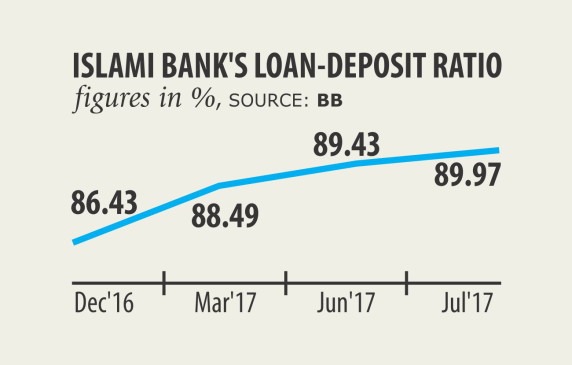 "We have withdrawn our investments in bonds to make more funds available for other sectors," said Arastoo Khan, chairman of Islami Bank.
The pullout from bonds was prompted by minimal returns, he said.
"As a result, the loan-deposit ratio of the bank became high," he said, adding that high lending will put the bank in good stead to log in 'good' profits in the third quarter of 2017.
Islami Bank, the largest and most profitable bank in Bangladesh, saw its profits slump 52.73 percent to Tk 161.27 crore in the first half of the year.
Moreover, the private sector credit growth is approaching 18 percent. "This reflects the rise in demand for credit in the market," Khan added.
Private sector credit growth hit a 58-month high of 17.84 percent in August. The last time the private sector credit growth was as high was back in November 2012, when 17.40 percent growth was registered.
Some other banks, including BASIC, violated their authorised limits for lending in July amid the rising credit demand from the private sector. At the end of July, BASIC's loan-deposit ratio stood at 97.65 percent, which is way past its authorised limit of 85 percent.
The ratio was 85.41 percent in June last year, according to the BB.
Source: The Daily Star