Within a day of a terror strike on an Indian Air Force base in Pathankot in Punjab, unidentified militants have attacked an Indian consulate in Afghanistan's northern city of Mazar-e-Sharif.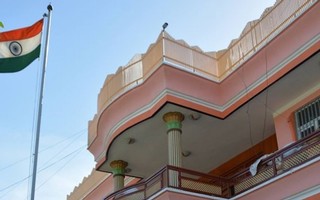 Two terrorists were killed and two others were currently engaged in a fierce gunbattle with Afghan forces on Sunday, Indian Consul General B Sarkar told bdnews24.com.
It was not clear whether there were more terrorists involved in the attack.
Afghan sources said the terrorists exploded two bombs in an attempt to breach the consulate's entrance, but the commandos of the Indo-Tibetan Border Police, who guard Indian diplomatic establishments in the country, fought back bravely.
Afghan forces joined them to encircle the part of the consulate building under attack.
Later, Afghan sources said the personal guards of local Uzbek politician Umar Nasrullah, who has rented his premises to the consulate, also joined the fight.
Sarkar said he could still hear intense gunfire outside the building, but confirmed that no Indian lives were lost.
An Indian intelligence official in New Delhi said the attack bore "clear footprints of terrorists who are handled by Pakistan's ISI".
He was not willing to be named.
A similar attack on the Indian consulate at Herat had taken place after Prime Minister Nawaz Sharif had attended Narendra Modi's swearing-in ceremony as India's prime minister last year.
"Both Pathankot and Mazar-e-Sharif are moves by the same player on a chessboard of terror," said former RAW official Colonel RSN Singh.
"I have no doubt in my mind that the ISI is behind both these attacks," said security analyst and former Indian army major Maroof Raza.
The attacks came amidst nationwide clamour in India to cut off any dialogue with Pakistan that Modi's surprise stopover at Lahore last week might had aimed at starting.
In 2008 and 2009, the Indian embassy in Kabul was attacked twice, with dozens killed.
In May 2014, heavily armed gunmen attacked the Indian consulate in Herat, while in August 2013 nine civilians died when the Indian consulate in Jalalabad was targeted.
India has blamed the ISI for engineering these attacks as the Pakistan Army is uncomfortable with so many Indian consulates in Afghanistan.
It thinks the growing Indian footprint in Afghanistan is a threat to its efforts to secure 'strategic depth' to the west.
Islamabad alleges India uses them to boost 'anti-Pakistan activities' sensitive areas like Baluchistan and Pakistan's northern region.
Source: bdnews24