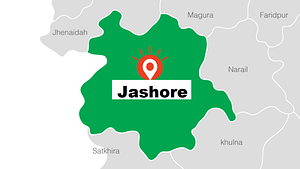 A man who returned from India died in quarantine at a hotel in Jashore town on Sunday.
Fifty-six-year Bimal Chandra Dey, a resident of Palang area of Sariatpur sadar upzila, died at the hotel, Balaka Hotel, around 3:15pm on Sunday.
According to the police and the health department, Bimal Chandra went to India for cancer treatment. He returned through Benapole immigration on 8 May. Ailing Bimal Chandra was kept on a 14-day quarantine at Balaka Hotel.
Civil surgeon of Jashore Sheikh Abu Shahin confirmed the death.
He said Bimal Chandra entered Bangladesh with a Covid-19 negative certificate from India. He died of cancer. A sample has been collected to run test whether he was Covid-19 positive.
Meanwhile, specimens of 69 people who have been quarantined have been sent to the Genome Center at Jashore University of Science and Technology for PCR testing.
Besides, five of those are in quarantine having tested positive for coronavirus in during antigen test. They have been admitted to Jashore Sadar Hosapial and their specimens have been sent to the lab for PCR test.
Civil surgeon Sheikh Abu Shahin said Covid-19 tests are being run on the passengers, who returned from India, after 14-day in quarantine as per the instruction of the Directorate General of Health Services (DGHS).
Only those who will test negative for coronavirus will be cleared for going home because many passengers have tested positive during their quarantine, he added.