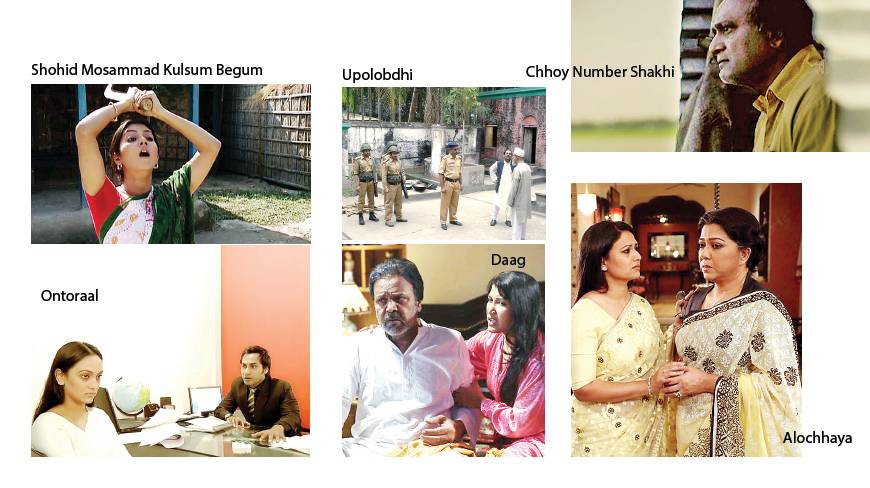 Ontoraal
Drama Ontoraal will be aired tonight at 10pm on Channel 9. Written by Rumman Rashid and directed by Nuzhaat Alvi Ahmed, the drama features Raisul Islam Asad, Bindu and Shojol. The story opens with a man named Opu who musters up an image of a girl named Mukti. The story takes off in different layers revolving around the girl and at one point Opu becomes insane. He asks his father about Mukti and Opu's father ends up confessing that he had raped Mukti during the Liberation War.
Daag
Daag will be aired on RTV at 9:05pm. Directed by Habib Masud, the drama features Tarik Anam Khan, Tisha, Iqbal Babu and many others. Story of the drama revolves around a rich business man named Jamshed who gets into an accident and is informed that in order to survive, he must agree to the amputation of both legs. Doctors find an old mark from a previous accident on his leg and asks him about that. Jamshed then realises that he suffers from amnesia.
Shohid Mosammad Kulsum Begum
Shohid Mosammad Kulsum Begum will be aired on GTV at 8:40pm. Directed by Komol Chakma, the drama features Shoshi, Rawnak Hassan, Sazzad Reza, Jhuna Chowdhury and many others. The drama is based on a true story which revolves around a freedom fighter named Kulsum Begum who sacrifices her love for the freedom of the country. The man she was in love with eventually joins the traitors group. Kulsum's father gets killed during the war and she then gets involved in helping the other freedom fighters.
Alochhaya
Alochhaya will be aired on NTV at 9pm. Directed and written by Chayanika Chowdhury, the drama features Apurba, Richi Solaiman, Diti and many others. The drama revolves around a professor named Rashed Chowdhury. Rashed meets a woman in facebook named Aparajita whose mother is a Birangona (freedom fighter). After Liberation War, a Swedish family adapts her. Later, Aparajita comes to Bangladesh to find her mother. After a long search and help from Rashed, she finally discovers her address. By the time she reaches her destination, she discovers to her disappointment that her mother had died some time back. She is consoled by Rashed who then tells her that his mother is also a freedom fighter.
Upolobdhi
Upolobdhi will be aired on ATN Bangla at 11pm. Written by Jahanara Imam and directed by Shorab Dodul, the telefilm features, Abul Hayat, Rawnak Hassan, Richi Solaiman and many others. Story of the telefilm revolves around rich family residing in Birampur. Head of the family is Syed Osman Ali whose son Ruhul is forced by the Pakistani Army to dig a trench for them. When Ruhul comes back from the Pakistani Army camp, his family rejects him and throws him out.
Source: Dhaka Tribune