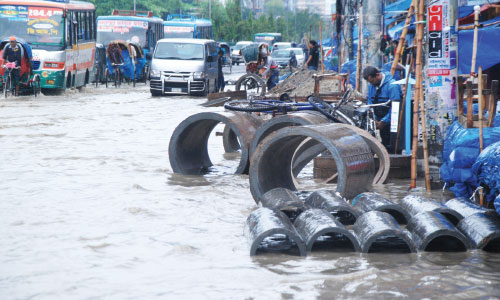 Incessant rain from early Saturday morning to noon, as a result of cyclone storm Roanu, flooded several parts of the capital, causing immense suffering to commuters and city dwellers.
Large construction sites around the city proved to be major hindrance to city-dwellers on the day.
The heavy rain forced wage earners, especially day laborers, to stay inside their homes. Roadside hawkers mostly did not open their makeshift shops.
The logged water, however, began to recede as the rain began to slow down in the afternoon.
The Dhaka Water Supply and Sewerage Authority claimed that they had appointed several teams at different points and set up pumps to flush out the logged water.
The rain inundated city areas including Malibagh, Shantinagar, Rajarbagh, Mouchak, Bailey Road, Mirpur 10 roundabout, parts of Mohammadpur, Kazipara to Sheorapara, under Banani foot over bridge, Merul Badda and a number of lanes in old Dhaka.
Many of the areas remained under knee-deep water till evening. Met Office claimed the city saw 69 mm of rain in 24 hours ending Saturday 6pm.
Many cars and CNG-run auto rickshaws were stranded at Shantinagar, Malibagh and Mouchak areas in the morning as their engines shot out. The area has been a witness to heavy construction work in recent times.
Witnesses said a number of rickshaws and motorcycles had fallen into holes related to the construction work on Mouchak-Malibagh road till noon.
Many pedestrians avoided using any transportation from Malibagh fearing they would fall into invisible holes under the logged water.
City dwellers said rickshaws and CNG-run auto-rickshaws charged higher fares taking advantage of the inclement weather.
As the water receded, filth emerged on almost all the roads.
'Our teams have been working at six places in the city. We have set up 10 pumps to flush out logged water at Malibagh and Shantinagar area through the Segunbagicha canal,' Dhaka WASA deputy managing director Md Mahmud Hossain Saturday evening.
He said that they managed to flush out all the logged water at Malibagh and Shantinagar by 7:30pm.
Source: New Age