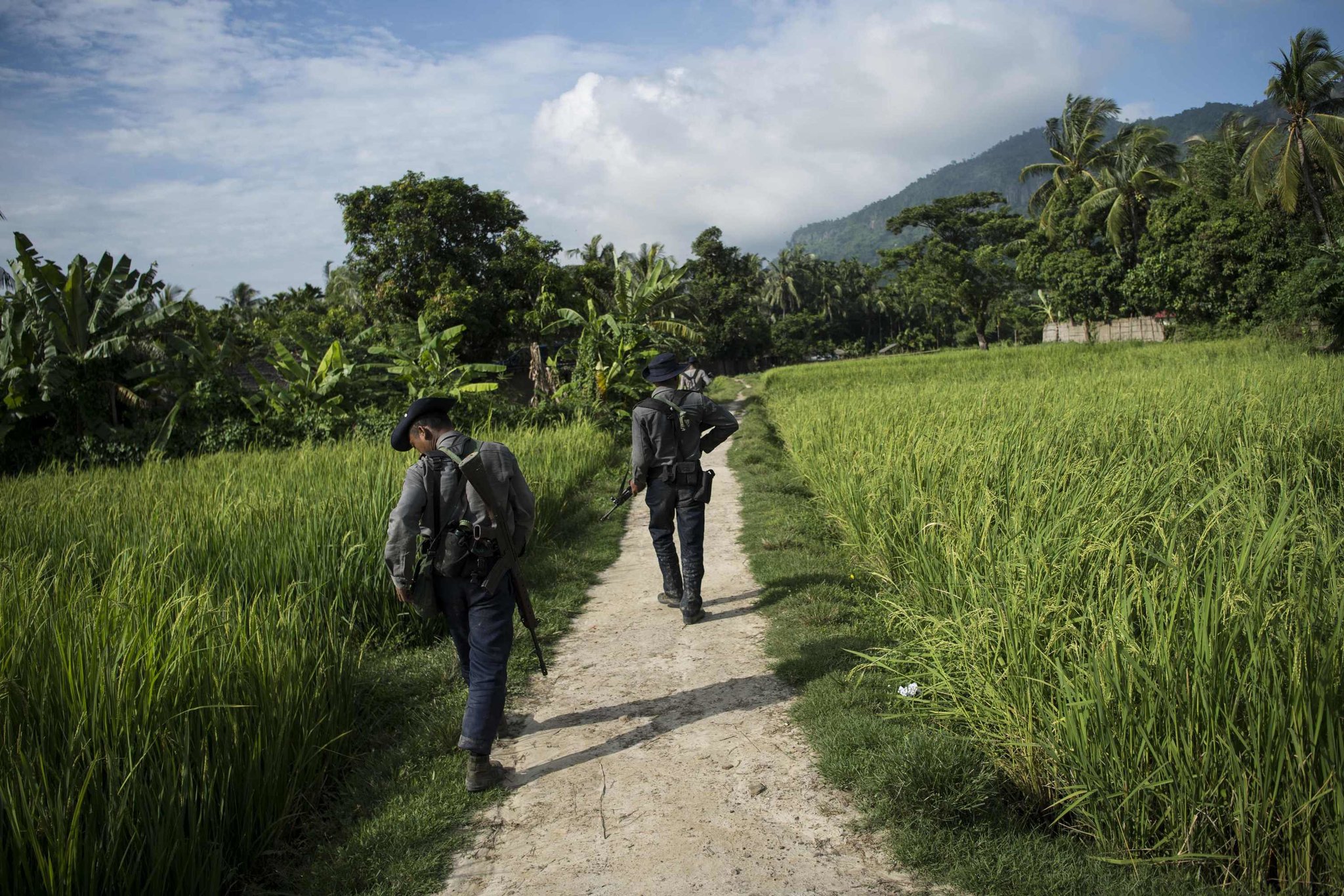 More than a week after attacks on police officers began a wave of bloodshed in western Myanmar, a lockdown by security forces has prevented aid workers from operating in the area, and new videos of what appear to be local Muslims calling for resistance have raised fears of more violence.
Maj. Gen. Aung Soe, the deputy minister for home affairs, told reporters on Monday in Naypyidaw, the capital, that 30 attackers had been killed in Rakhine State since the Oct. 9 assaults on three border posts that left nine police officers dead. Activists from the Rohingya ethnic group, a persecuted Muslim minority who number more than a million in Rakhine, have accused the security forces of waging a counterinsurgency campaign against civilians, and they have circulated photos that they say show security forces burning Rohingya homes.
Neither the government's nor the activists' version of events could be independently verified. But an advocacy group, Fortify Rights, recently said that it had interviewed witnesses who described what appeared to be extrajudicial killings by the military.
Violence Mounts in Restive Myanmar State, Leaving a Dozen Dead OCT. 12, 2016
Dozens Believed Killed as Violence Erupts in Myanmar OCT. 10, 2016
Aung San Suu Kyi Asks U.S. Not to Refer to 'Rohingya' MAY 6, 2016
After Myanmar Election, Few Signs of a Better Life for Muslims NOV. 18, 2015
Myanmar to Bar Rohingya From Fleeing, but Won't Address Their Plight JUNE 12, 2015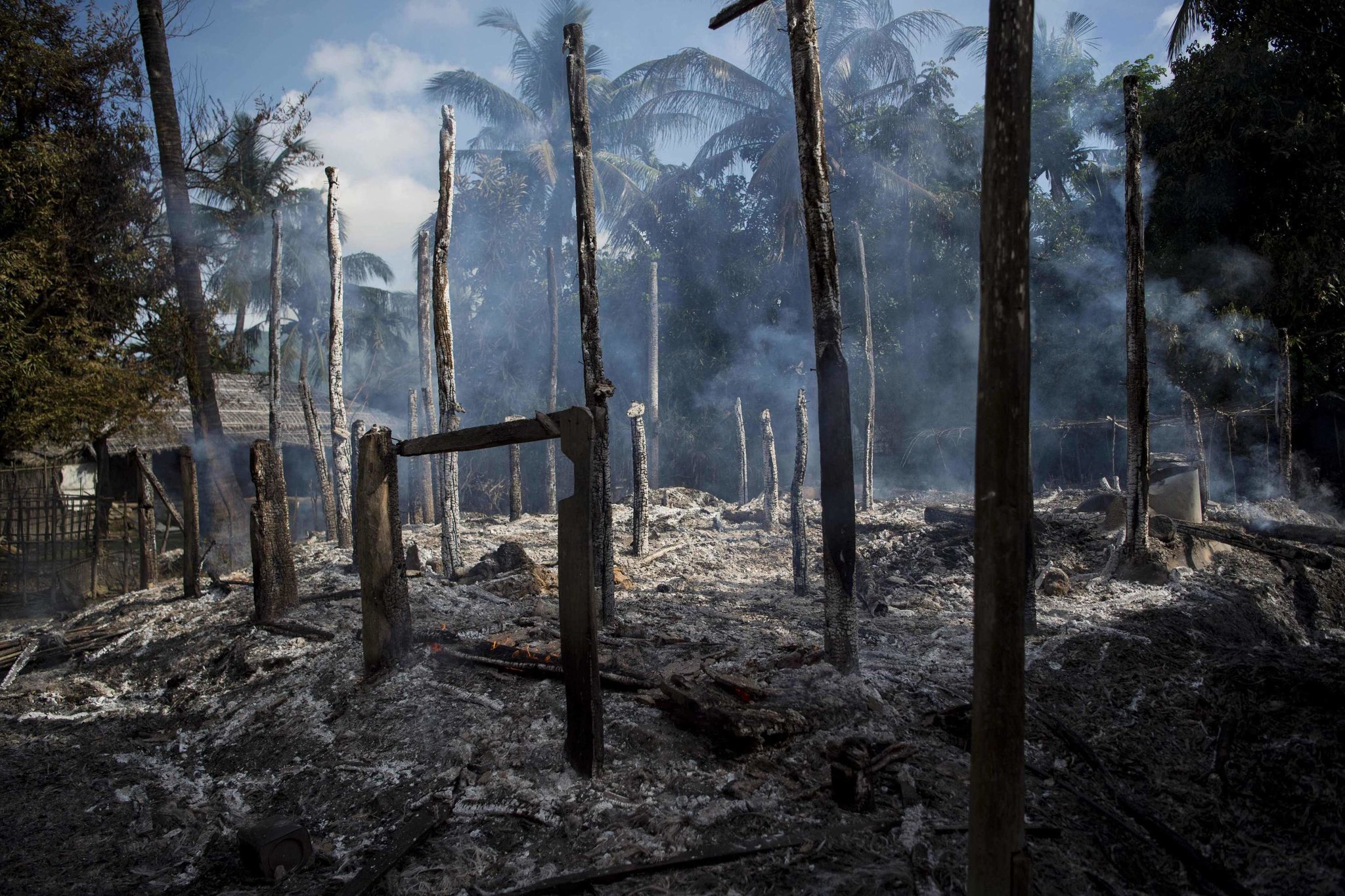 The smoldering remains of a Muslim village near Maungdaw after a recent attack. Credit Ye Aung Thu/Agence France-Presse — Getty Images
A United Nations World Food Program official, Arsen Sahakyan, said Tuesday that a lockdown in the area since the Oct. 9 attacks had halted the agency's relief work in villages there, which typically reaches 70,000 people per month during the lean agricultural season from May to November. Pregnant or lactating women and young children also receive year-round food assistance under the program, he added.
Now that road access has been severely curtailed, "people report to the office, but that's it," said Mr. Sahakyan, the agency's partnerships officer in Myanmar, referring to its field office in northern Rakhine. "We cannot go to the areas where we normally distribute food."
Rakhine State, which borders Bangladesh, has long been haunted by ethnic unrest, and it was the site of violence between Buddhists and Muslims in 2012 that left hundreds dead. Rohingya are denied citizenship by Myanmar's government, which considers them migrants from Bangladesh, even if their families have been in the country for generations.
The government has attributed the Oct. 9 attacks to organized Muslim militants, though it offered no evidence and has since appeared to backtrack somewhat from the charge. Last Friday, President Htin Kyaw's office said the attacks had been carried out by an organization called Aqa Mul Mujahidin, which it said had links to another little-known group, the Rohingya Solidarity Organization.
Several analysts and activists who follow Myanmar said in interviews that they had never heard of the first group and that the second was thought to be defunct. On Monday, according to news reports, the Foreign Ministry's permanent secretary, U Kyaw Zeya, said the statement from the president's office was preliminary and should not be used to "start making accusations, much less condemnations."
But videos have circulated since the attacks that appear to show armed Rohingya men in Rakhine calling for violent jihad. One that emerged in recent days, showing four men holding military-grade weapons, has an English-language voice-over that makes several demands of the government, including returning land that it said had been taken from Rohingya.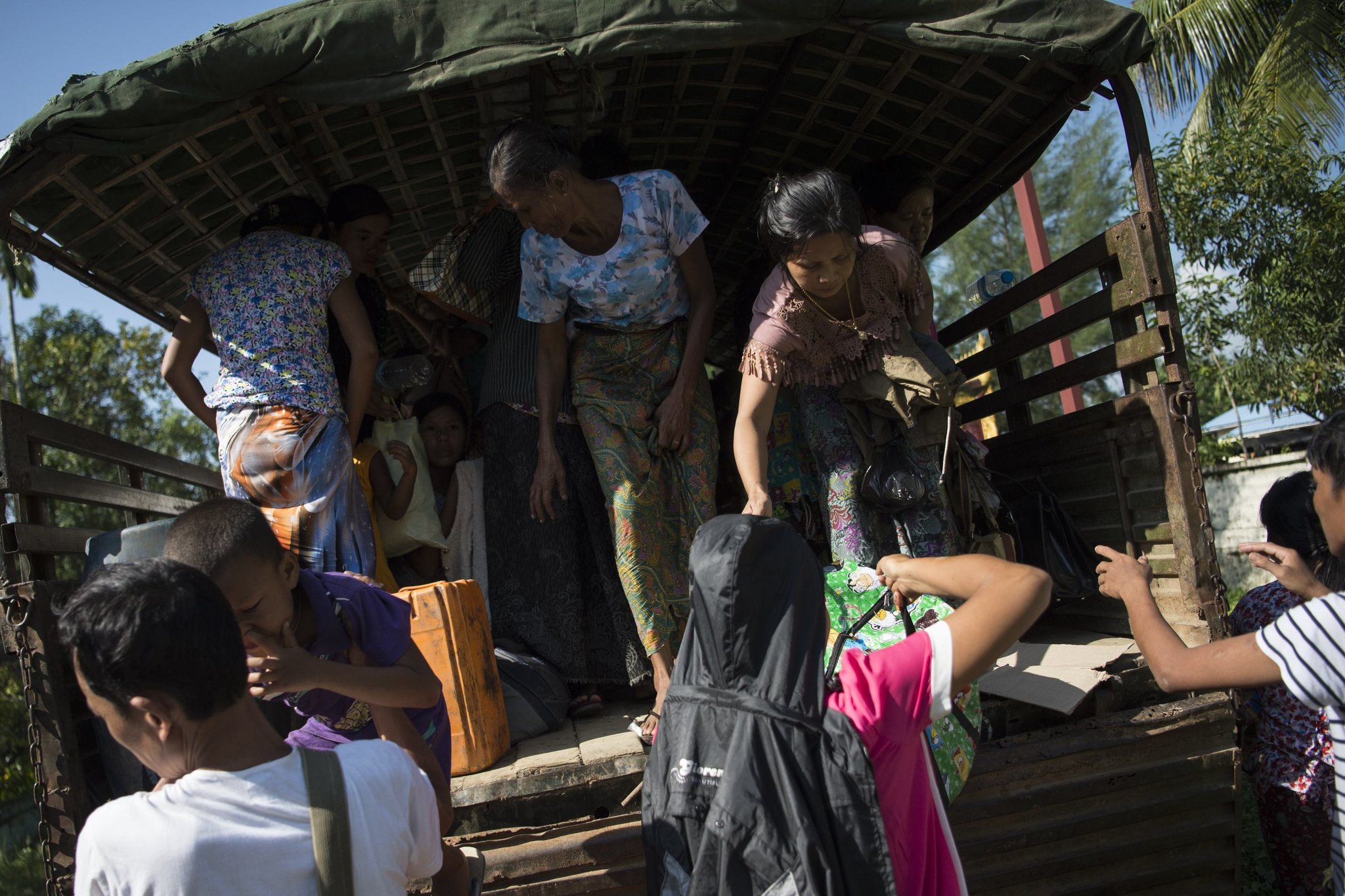 People displaced by fighting were evacuated to a Buddhist monastery in Maungdaw, Rakhine State, last week. Credit Ye Aung Thu/Agence France-Presse — Getty Images
"We stand as an independent body which is free from all elements of terror in any nature but seeks fundamental but legitimate rights and justice for all Arakanese, including our innocent Rohingyas and other civilians dying from the continuous military assault," the voice-over said. Rakhine State is also known as Arakan State.
Jasminder Singh, an analyst at the S. Rajaratnam School of International Studies in Singapore who studies terrorism in Southeast Asia, said Wednesday that both the videos and the Oct. 9 attacks appeared to be the work of a new group called Harakah al-Yaqin, or the Movement of Certainty, possibly inspired by Al Qaeda or the Islamic State, and that the initial attackers appeared to have entered Rakhine by boat. He said he had reached those conclusions after studying the videos and Facebook pages maintained by Rohingya groups, which feature postings from around Asia.
But U Kyaw Min, the chairman of the Democracy and Human Rights Party, a registered political party in Myanmar whose Rohingya members are barred from running for office, said he did not believe the attacks were the work of organized militants.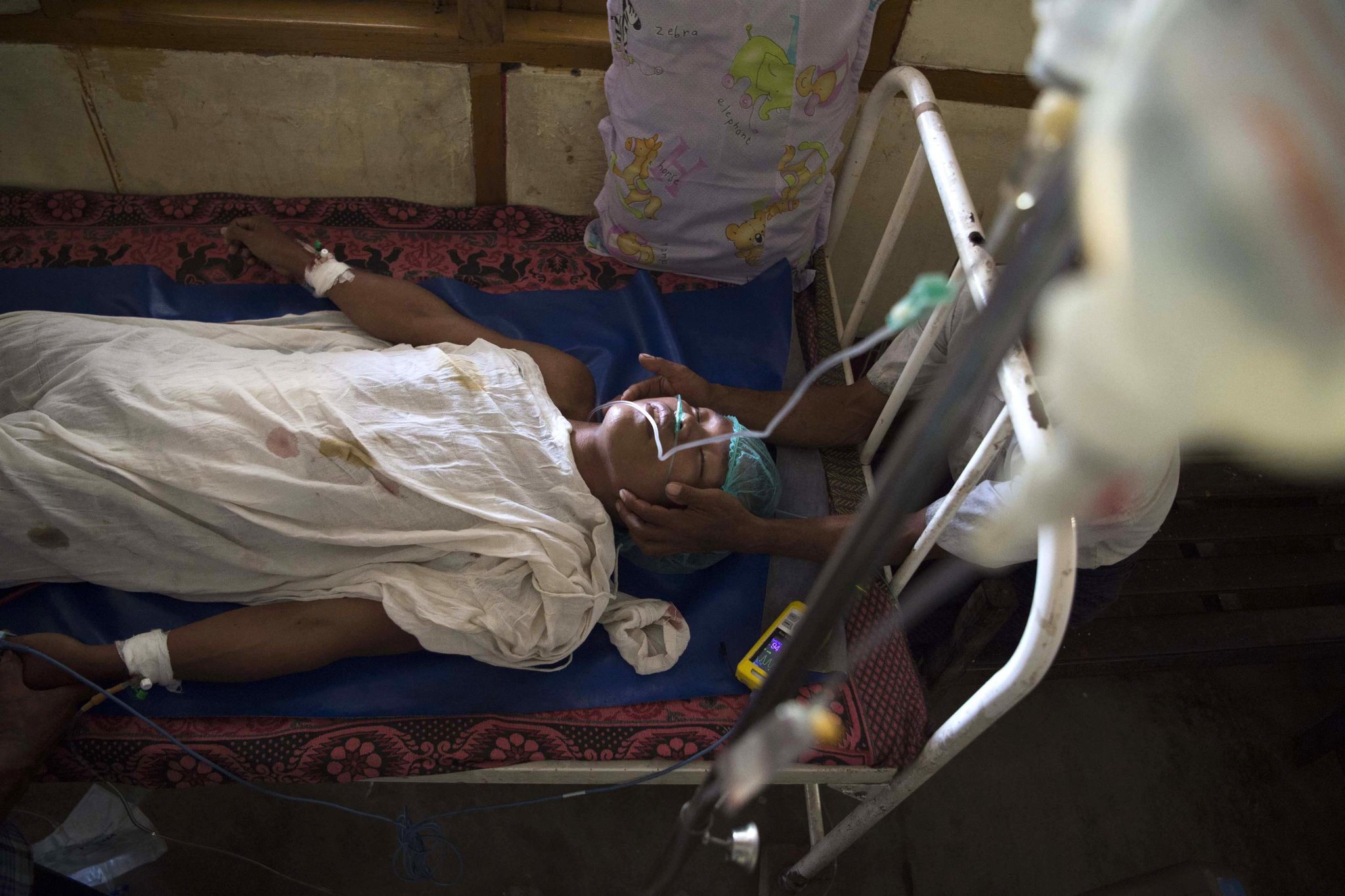 A 23-year-old Buddhist teacher was treated at a hospital in Maungdaw last week after being shot by an unknown gunman. Credit Ye Aung Thu/Agence France-Presse — Getty Images
Mr. Kyaw Min said information he had gathered from people in Rakhine suggested the attacks had been carried out by gang members involved in drug trafficking, not terrorists with links to overseas Islamist groups. He said he believed the government had fabricated a link between armed Rohingya and foreign terrorists as a pretext for eventually forcing people in northern Rakhine to live in refugee camps.
"The Rohingya are the sufferers," he said.
More than 100,000 people already live in refugee camps in southern Rakhine, on the fringes of the state capital, Sittwe. Most are Rohingya, though some are Rakhine, a Buddhist ethnic minority that has also been persecuted by the Myanmar Army. All were displaced in the 2012 fighting between the Rohingya and the Rakhine, which broke out around Sittwe and killed dozens.
The de facto leader of Myanmar's government, Daw Aung San Suu Kyi, has in recent months called for reconciliation between the two groups. In August, she appointed Kofi Annan, the former United Nations secretary general, as chairman of an advisory commission on Rakhine State with the goal of opening a dialogue with local political and community leaders.
Mr. Annan visited Sittwe in September, and the commission is expected to file a report in 2017. But analysts said the recent violence, coupled with the jihadist videos circulating online and the government's warnings about Islamist terrorism, was fueling anti-Muslim sentiment across Myanmar and making the prospect of ethnic reconciliation in Rakhine State look increasingly remote.
Widney Brown, director of programs at Physicians for Human Rights, an advocacy group based in New York that has documented human rights violations by the authorities against both Rohingya and Rakhine people in Rakhine State, said it was imperative that the Myanmar government conduct an impartial investigation into the Oct. 9 attacks and the subsequent violence.
"There needs to be accountability," she said in a telephone interview. "And let's be clear: on both sides."
Source: NYtimes