'Provide protection, not isolation on flooded island'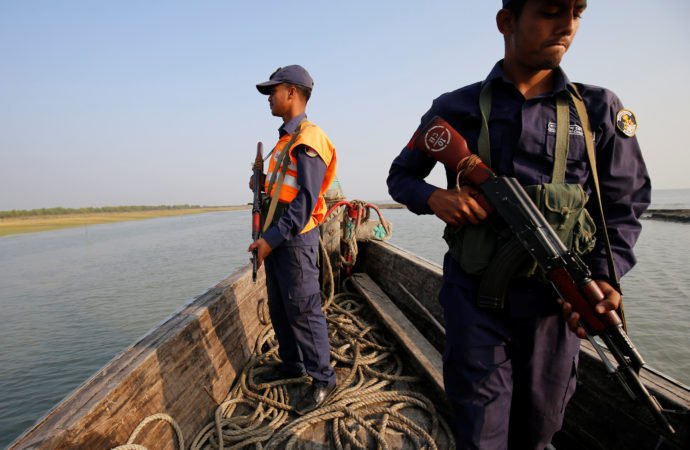 In a statement published on its own site, the Human Rights Watch has said the Bangladesh government should immediately drop its plan to relocate Rohingya refugees to an uninhabited, undeveloped coastal island, as it would deprive them of their rights to freedom, livelihood, food and education, in violation of Bangladesh's obligation under international human rights law.
Between 300,000 and 500,000 mostly unregistered Rohingya Muslim refugees currently reside in Bangladesh, fleeing persecution in Myanmar since the 1990s. Since October 2016, nearly 69,000 Rohingya from the Rakhine state in Myanmar have entered Bangladesh, escaping attacks, unlawful killings and sexual violence inflicted by Myanmar security forces.
"The Bangladesh government is making the ridiculous claim that relocating Rohingya refugees to an island with absolutely no facilities that is deluged at high tide and submerged during the monsoon season will improve their living conditions," said Brad Adams, Asia director. "This proposal is both cruel and unworkable and should be abandoned."
The plan to move long-term refugees to Thengar Char was first suggested in 2015, but was shelved after widespread condemnation.
A 2015 letter from the Bangladeshi government on the appropriate location to relocate the refugees stated that it must "minimize conflicts between Bangladeshis and Rohingya." Thengar Chor was apparently chosen because of its distance from inhabited areas – it is 30 kilometres from the populated Hatiya island and a long journey from existing Rohingya camps.
The government revived the plan in early February 2017 following the new influx of Rohingya refugees. Officials contended that the new arrivals pose a law and order and a public health problem, but have produced no evidence to support this claim. In addition, the government has issued warnings against new arrivals mixing with the general population and established committees to increase security around the camps to prevent refugees from exiting the camps or "intermingling" with Bangladeshi citizens.
A cabinet order, passed on January 26, 2017, is unclear as to whether all Rohingya in Bangladesh would be transferred or only new arrivals. However, State Minister for Foreign Affairs Mohammad Shahriar Alom has said: "The Rohingya will live [in Thengar Char] temporarily and our desire is that the Myanmar government will take them back as soon as possible."
Journalists who have visited Thengar Char island, which emerged from river silt deposited in the Bay of Bengal just a decade ago, describe it as empty and featureless, subject to cyclones and flooding. During monsoon season, the island is submerged; anyone living on the island will have to be evacuated, and any infrastructure would be damaged. The government announced that it will build embankments around the island to stave off the constant flooding, but similar islands along the coast have long faced flooding and frequent evacuations despite government interventions. One government official from the area, speaking anonymously to the BBC, said that sending people to live there was "a terrible idea", noting that the island is "only accessible during winter and is a haven for pirates".
Aid agencies, including the United Nations High Commissioner for Refugees (UNHCR), which administers the refugee camps, expressed alarm over the revival of this plan, and said that any relocation of the refugees to Thengar Char must be voluntary, and be done through a consultative process after a feasibility study has been completed.
Human Rights Watch regards Rohingya people who flee from Myanmar to Bangladesh to be prima facie refugees for four reasons. First, the Myanmar government has effectively denied its Rohingya minority citizenship, failing to protect them and itself perpetrating rampant and systemic violation of their human rights, including restrictions on movement; limitations on access to health care, livelihood, shelter, and education; arbitrary arrests and detention; and forced labour. Second, because of Myanmar's discriminatory citizenship policies, it also refuses to cooperate in the repatriation of Rohingya, itself a denial of the human right of any person to return to their country, and the basis for a sur place claim to refugee status. Third, Bangladesh is not a party to the 1951 Refugee Convention, and has neither registered Rohingya as refugees since the early 1990s, nor allowed them to lodge asylum claims, thereby abdicating its responsibility to determine their status. Finally, a person does not become a refugee because of recognition, but is recognised because they meet the refugee definition, so refugees in Bangladesh do not forfeit their rights as refugees simply because the authorities have not recognised their status.
"The Bangladeshi government needs to treat the persecuted Rohingya humanely, but they shouldn't have to go it alone," Adams said. "Instead of dumping Rohingya on a flooded island, the government should be seeking immediate donor support to improve existing conditions for the refugees."
Source; Dhaka Tribune