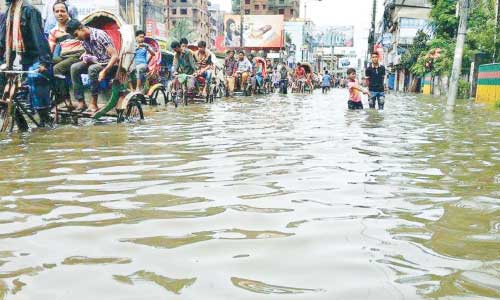 Heavy monsoon rain disrupted normal life in southern districts of Chittagong, Barisal and Khulna on Saturday.
Rain water remained stagnant in different areas of the districts, snapping road communications.
People, especially those who depend on their daily wages, could not go for work, said reports received from the districts.
The maritime ports of Chittagong, Cox's Bazar, Mongla and Payra have been advised to hoist local cautionary signal number three following deep convection over the North Bay, UNB reported.
Deep convection is taking place over the North Bay. Under its influence, squally weather may affect the North Bay, its adjoining coastal areas of Bangladesh and the maritime ports, said a Met Office warning message.
All fishing boats and trawlers over the North Bay have been advised to stay close to the coast and proceed with caution until further notice.
Bangladesh Meteorological Department in Dhaka on Saturday evening forecast that light to moderate rain or thunder showers accompanied by temporary gusty wind was likely to occur at most places over Dhaka, Rajshahi, Khulna, Barisal and Chittagong divisions and at many places over Rangpur and Sylhet divisions with heavy to very heavy falls at places over Khulna, Barisal and Chittagong divisions and moderately heavy to heavy falls at places elsewhere over the country till Sunday 6:00pm.
The met office recorded 274 millimetres of rain in Chittagong as the highest rainfall in the country in the 24 hours ending at 6:00pm on Saturday.
The office recorded 110mm of rain in Rangamati, 175mm in Feni, 107mm in Cox's Bazar, 211mm at Kutubdia, 141mm in Teknaf, 54mm in Khulna, 81mm in Jessore, 30mm in Barisal and 170mm in Khepupara during the same period.
Flood Forecasting and Warning Centre of Bangladesh Water Development Board data show that water flowed above the danger level at Kanaighat point of the River Surma, at Amalsid and Sheola points of the River Kushiyara, at Jhikorgachha of River Kobadak, at Muhuri of River Parshuram and at Matamuhuri of River Chiringa.
It forecast that the Surma-Kushiyara river systems had a rising trend which might continue in the next 48 hours since Saturday morning.
New Age correspondent in Chittagong reports that rain water remained stagnant in most of the city areas affecting daily life. The port and businesses activities had been hampered heavily by the incessant rainfall.
The waterlogged areas include Nasirabad, Chandgao, Chotopool, parts of Agrabad, CDA, Pahartoli, Bou Bazar, Nayabazar, Chaktai, Halishahor, Baropool, Bahaddarhat, Muradpur, Sholoshahar, Chak Bazar, Kapasgola, Miakhan Nagor, Rajakhali.
The loading and unloading of bulk-cargo ships at the outer anchorage of the port was hampered for the heavy rain while operational activities in container handling were also affected, port sources said.
Incessant heavy shower also forced Shah Amanat International Airport to delay the operations of a few flights as its runway went underwater for a few hours, airport sources said.
Traffic congestion on important city streets was seen as heavy onrush of rainwater forced a large number of mechanised and non-mechanised vehicles to go out of order.
New Age correspondent in Feni reports that at least six villages went under water as the embankment by the side of the River Matamuhuri breached at Sahapara and Uttar Daulatpur points due to heavy rain and pressure of high tide.
As the Feni-Porshuram road went under water, traffic was hampered greatly.
In Bandarban, road communications of the district with Chittagong and Cox's Bazar were snapped Saturday afternoon as many parts of the Bandarban-Keranihat road went under three to four feet water due to the heavy rain.
In Bagerhat, more than half of the seedbeds of Aman paddy went under water amid incessant rain in the district over the last few days.
According to officials at Department of Agricultural Extension, about 1,620 hectares of the 2,810 hectares Aman seedbeds prepared by farmers ahead of the upcoming Aman transplantation have been submerged.
Source: New Age