Mon Jan 17, 2022 12:00 AM Last update on: Mon Jan 17, 2022 03:46 AM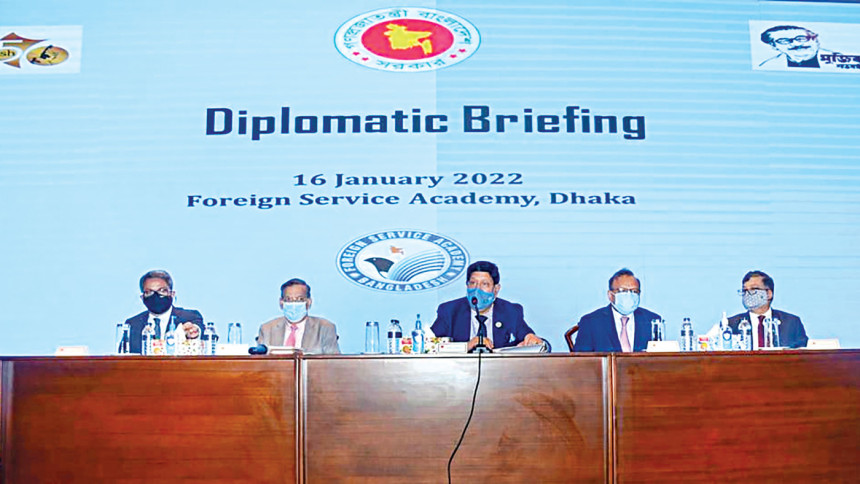 The government has expressed readiness to check misuse and abuse of the Digital Security Act, said Law Minister Anisul Huq yesterday.
He said the government is engaging with the relevant UN Offices to understand best practices in this regard, during an hour-long meeting with the diplomats, the first one this year, organised by the foreign ministry at the Foreign Service Academy.
He elaborated on the procedure of the formation of new Election Commission and the current dialogue of the president with political parties.
Foreign Minister AK Abdul Momen, LGRD Minister Md Tazul Islam, State Minister for Foreign Affairs Md Shahriar Alam and Foreign Secretary Masud Bin Momen were present during the briefing.
Regarding holding free and fair elections, the foreign minister said, "We are pledge-bound to uphold our constitutional obligation," according to a statement.
He briefly touched upon the ongoing local government elections. This is the first time the country elected a UP chairman from the third gender, he mentioned.
The LGRD minister briefed the diplomats about the different phases and results of the ongoing local government elections. He mentioned that a large number of independent candidates were elected during these elections.
The ministers clarified the issue of "uncontested elections" which takes place in other countries including in the developed parts of the world.
Around 40 diplomats joined the briefing. It was followed by an interactive session in which questions on LDC graduation, business and investment, Rohingya repatriation, among other topics, were addressed.
About the briefing, a foreign ministry official told The Daily Star that the government tried to give a message to the diplomats that if they have any issues that need to be addressed, they should let Dhaka know.
The ministers said if the diplomats are not satisfied, they may then inform their headquarters about the issues, the official added
The government also shared with the diplomats the plans for fair elections in 2023, a diplomat who was present at the briefing told this correspondent.
Some diplomats also wanted to know the government strategy in the aftermath of LDC graduation of Bangladesh. They also pointed out the issues of business climate in Bangladesh, suggesting further improvement.