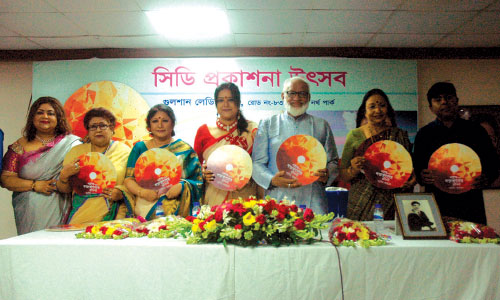 Eminent singer-researcher Nashid Kamal launched a musical biography of the national poet Kazi Nazrul Islam on Saturday at Gulshan Ladies' Club.
The album titled 'Gaaney Gaaney Nazrul-er Jeebani' contains 12 songs, one recitation and a narration on Nazrul by Nashid Kamal.
Veteran singer-researcher Mustafa Zaman Abbasi, eminent singer Ferdausi Rahman and Kazi Nazrul Islam's granddaughter Anindita Kazi were present at the album launching.
The album begins with Nazrul's ghazal Hera Hotey Hele Dule. The song also reverberates Nazrul's childhood as he took his elementary education at a maktab.
It also contains landmark songs the national poet composed at different stages of his life like Hulo Re Tui Raat Birate, O Ma Donujo Doloni Moha, Mora Jhonajhar Moto, Pia Pia Papiya, Jarey Haat Diye Mala, Ami Kul Chhere, Ashe Bosonto Phulboney, Bideshi Chini Chini, Bosonto Mukhor and Tumi Sobar Kotha Koile.
The album ends with the song Mashjider-e Pashey Amar Kabar Dio Bhai which is regarded as the poet's last wish to be buried near a mosque.
The album also includes a recitation of English translation of Nazrul's famous poem Karar Oi Louha Kapat by Nashid Kamal.
'The album is atypical in this sense that it presents Nazrul's life story through songs and narrations', said Nashid Kamal.
She also said that she had penned Nazrul's biography in English.
Nashid also rendered a few songs from the album including Heera Hotey Hele Dule, Hulo Re Tui Raat Birate, Pia Pia Papiya and Mora Jhonjhar Moto.
Nashid's cousin Samira Abbasi, daughter of Mustafa Zaman Abbasi, joined the singer in a few songs.
The album has been released under the banner of ME Label.
Source: New Age