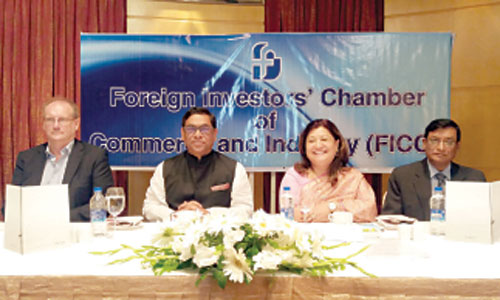 Foreign investors have been feeling insecure in Bangladesh after the extremists' attack at a café in Gulshan in the capital that killed 28 people including 17 foreigners.
The attack was different and added a new dimension to 'terrorist' activities in Bangladesh, Foreign Investors' Chamber of Commerce and Industry president Rupali Chowdhury said at the monthly luncheon meeting on Thursday held at a city hotel.
'It [the attack] was aimed at foreigners. After this incidence, all foreigners including our FICCI members feel insecure, vulnerable and unsafe,' she said.
The attack had created a deep sense of fear and insecurity among the foreigners, Rupali said.
Most of the deceased foreigners, from Italy, Japan and India, were involved either in apparel sector business or in development projects in Bangladesh.
State minister for power, energy and mineral resources Nasrul Hamid was the chief guest while the US ambassador to Bangladesh Marcia Stephens Bloom Bernicat was special guest at the FICCI's luncheon meeting.
FICCI was instituted in 1963 to uphold the business interests of foreign investors and to cater to their needs in relation to the government, regulatory institutions and trade related bodies.
Among other foreign companies, International Oil Companies or IOCs, International Mining Companies or IMCs and International Power Companies or IPCs in Bangladesh are members of FICCI.
In her address, Rupali also said, 'We all know this is global phenomena, but we request Bangladesh government to recognise our need for better security and efficient intelligence to ensure the safety and security of the foreigners, including citizens of Bangladesh.'
Speaking on the occasion, Nasrul Hamid said that the government had taken measures to address the situation.
Besides, he said, his ministry had sent a proposal to the prime minister's office for policy approval to create a special force to protect the establishments in power and energy sector.
More than 3,000 foreigners are working in Bangladesh's power and energy sector, the junior minister said.
At the meeting, FICCI pressed for transparent and business-friendly regulatory frameworks for governing the IOCs and IMCs.
FICCI also requested the government to initiate one-stop service to expedite completion of bureaucratic procedures so that projects did not face delays.
Stable and uninterrupted supply of gas and electricity and lowered price of fuel oils were also demanded at the meeting.
The state minister urged the investors to get ready to pay more for energy, particularly for natural gas as the government planned to increase gas supply from imported LNG, Liquefied Natural Gas.
The cost of gas supply would see a sharp rise soon as 500 mmcfd of gas would be added from early 2018 from expensive LNG, he said.
A fresh move to raise the price of natural gas is under consideration of the Bangladesh Energy Regulatory Commission, he said.
Nasrul Hamid urged the investors in Bangladesh to reduce wastages of electricity as well as gas in their factories and other business operations to reduce the effect of higher energy prices.
At the meeting, FICCI suggested that the government should be more focused in developing transmission and distribution networks covering all corners of the country.
Foreign investors also sought introduction of comprehensive fiscal terms in oil and gas exploration in onshore and offshore areas to encourage greater investments in exploration.
Source: New Age