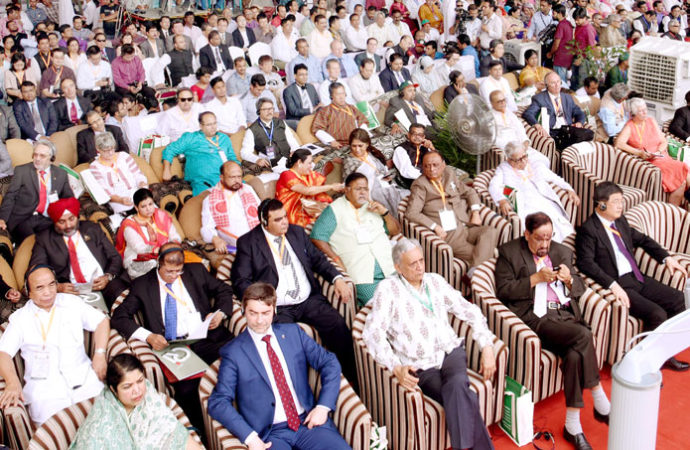 The session of the foreign delegates' speech began with Special Envoy to the Chinese President Zheng Xiaosong
The first day of the ruling Awami League's national council yesterday saw 54 high profile representatives of governments and political parties from 11 countries who highly praised the leadership of Prime Minister Sheikh Hasina for her role in development activities and combating terrorism. The session of the foreign delegates' speech began with Special Envoy to the Chinese President Zheng Xiaosong, apparently due to the historic visit of Xi Jinping, the Chinese president, when deals worth $27 billion were signed between the two countries. Xi's visit made it clear that the Bangladesh-China relationship is heading towards a new goal. Terming the Awami League an important political force, Xiaosong, also the vice-minister of International Department of the Communist Party of China, said: "Bangladesh has achieved huge economic development and improved peoples' well-being under the leadership of the Awami League." He said that the Awami League's new policies for China was an important driver for stable relation between the two states. "China stands to alleviate the relation between the two countries regarding the basis of complete equality, mutual respect and non interference in each others internal affairs," Xiaosong added. The second speaker was Sri Lankan Religious Affairs Minister AH Mohamad Hasheem. He praised Bangladesh for achieving notable development in education, health, gender equality and population control under the leadership of Sheikh Hasina. "Both countries have been working for achieving equal rights for the ethnic communities and socio-economic freedom of their people," he added. Vice-President of Bharatiya Jatiya Party (BJP) of India Vinay Prabhakar termed Hasina a rare leader. "You are a true Jononetri (peoples' leader), not only of the country but also of the entire sub-continent." He conveyed Indian Prime Minister Narendra Modi's message, saying that Modi had given importance to cordial and harmonious relation between India and all its neighbouring countries, particularly Bangladesh. "I am sure that all the agreements between the two countries will see the light of the day under [the present] harmonious relations," Prabhakar said. Deputy General Secretary of United Russia Sergey Zheleznyak MP said that Bangladesh-Russia economic relationship stood at $100 crore and "we hope that you can build Sonar Bangla and we want to build our relationship between these two countries." Canadian opposition Conservative Party leader Deepak Obhrai lauded the government for practising democratic values. He said: "Bangladesh has come a long away. It is an example for others to see Bangladesh's democracy and how it works. You are doing the promotion of democracy around the world." Austrian Social Democratic Party leader Fuchs MP wished the presence "Freundschaft" (friendship in German) in accordance with the traditions of her party. She spoke about Austria's support for Bangladesh's independence, recalling how then the Austrian premier introduced a resolution at the United Nations condemning West Pakistan and a resolution in his parliament supporting Bangladesh. She also lauded Bangladesh's successes in empowering women under Hasina's leadership. Jenny Rathbone, assembly member for Cardiff Central (Welsh Government) of the UK, also appraised the Awami League president and premier for contributing to ensuring girls' education and food security, which is very important for climate change.
Hasina praised for fighting terrorism
Most of the foreign delegates thanked Hasina for her government's success in combating terrorism. Italian ruling party leader Khalid Chaouki MP greeted the premier for her efforts. "We are together today against violence, terrorism and we support your country for democracy and for developing together for our common values." Chaouki also urged his countrymen to come and explore Bangladesh. Russian parliamentarian Sergey Zheleznyak also praised Hasina for her role in fighting against terrorism and ensuing security for South Asia and the world as a whole. Indian National Congress party's Golam Nabi Azad, a leader of opposition in Rajya Sabha, lauded Hasina for her government's zero-tolerance stance against terrorist activities. "We are looking forward to your role fighting against terrorism and saving this sub-continent from its menace," Azad said. After their speech, Prime Minister Sheikh Hasina reiterated that she would not allow any terrorist activities on this land and no one would be able to use this land for transit of any terrorism activities.
Australia, Canada welcome Bangladeshi immigrants
Australian State MP of New South Wales from Labour Party Hugh McDermott felt honoured to speak at the Suhrawardy Udyan, from where Father of the Nation Bangabandhu Sheikh Mujibur Rahman declared independence in 1971. He welcomed Bangladeshis and the Awami League activists in particular to migrate to Australia. Praising Hasina, McDermott said: "Awami League under Sheikh Hasina is at the forefront of rebuilding Bangladesh." Welcoming more Bangladeshis to migrate to Canada, Deepak Obhrai said: "Some 150,000 Bangladeshis living in Canada are the great citizens of Canada." Source: Dhaka Tribune