John W Hood book Released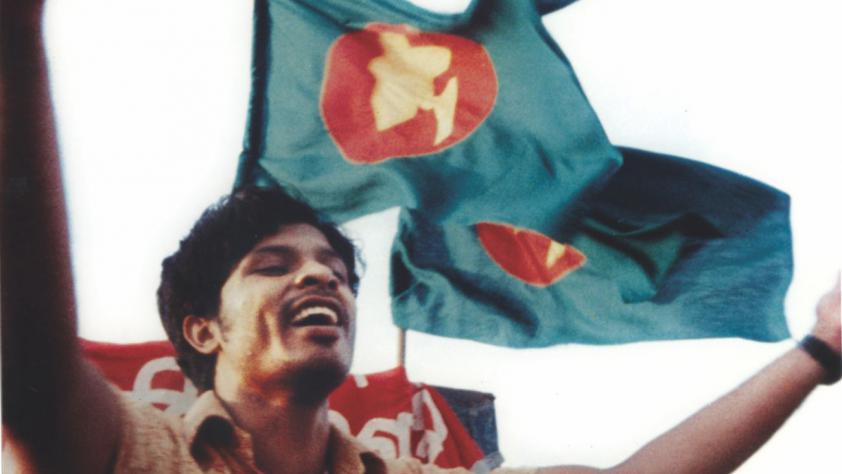 The Bangladesh Film Institute auditorium at Kalabagan in Dhaka was packed to capacity on November 16, exactly a month before Victory Day, as the occasion was as much a celebration of the country's Liberation War, as told through cinema, as an analysis of the heavy cost at which freedom was achieved.
To share it all was none other than the veteran Australian film critic-writer John W Hood, whose latest book, "The Bleeding Lotus: Notions of Nation in Bangladeshi Cinema" was launched at the function.
Presided over by Tanvir Mokammel, Director of the Institute, Hood read out excerpts from his book. Dr. Mohammd Jahangir Hossain, Director of Bangladesh Film Archive, film-makers Shameem Akhtar, Mahmudul Hossain and Ilias Kamal Risat were guest speakers and spoke on different aspects of the book brought out by Palimpsest, a New Delhi-based publishing house.
The speakers mostly expressed their gratitude to Hood for his endeavour, particularly mentioning the meticulous research the author has done to write the book. The in-depth analysis of some of the major films based on the Liberation War, like "Jibondhuli", "Matir Moyna" and "'Rabeya" came in for appreciation.
The discussants also pointed out that Hood has not only dealt with  fiction films but also some prominent documentaries on the 1971 war, like Zahir Raihan's "Stop Genocide", Mokammel's  "1971" and Tareque Masud's "Muktir Gaan".
The speakers felt the book would be useful for researchers and students of Bangladesh cinema to understand how the Liberation War as portrayed on the big screen by different directors like Zahir Raihan, Morshedul Islam, Mokammel, Tareque Masud, Humayun Ahmed, Shameem Akhtar, Sajjad Bakul and some others bringing their own perspectives on the events leading up to the war, during the war and even post-war.
The discussion programme was followed by a riveting question-answer session with Hood who answered some questions from the audience on his book.
There were quite a few questions during the Q/A session. One of them was why John Hood wanted to write a book on the liberation war films of Bangladesh. Prompt came the answer from him: "The sincerity of these film-makers to tell the stories of agony suffered by their people in 1971 touched me."
"Besides, I believe that some of these films, despite limited budgets and technology, have become worthy piece of cinematic art. Hence, I felt inspired to write the book," said the Australian writer who has penned several essays on the works of iconic directors like Satyajit Ray, Mrinal Sen and Buddhadeb Dasgupta over the years.
Fittingly, the book launch programme wrapped with the rendition of some patriotic songs related to the Liberation War, sung by actress Chitralekha Guha and Syed Shabab Ali Arzoo.
Source: The Daily Star