A Chittagong court has found five persons guilty of the 2012 murder of teenager Himadri Majumder Himu and sentenced them to death.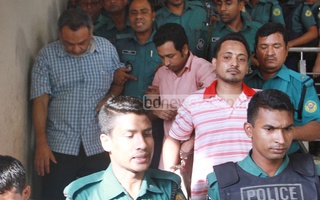 The court of Fourth Additional Metropolitan Sessions Judge Nurul Islam awarded the death penalty to the five convicts on Sunday.
Three convicts were present in court during the verdict—two others are absconding.
Himu, a student of Summerfield School and College, was pushed off from the roof of his friend Junaid Ahmed Riad's house in the port city's Panchlaish Residential area on Apr 27, 2012.
Riad and his friends, Shahadat Hossain Saju, Mahbub Ali Danny and Jahidur Rahman Shaon, beat Himu before setting a pack of Doberman dogs after him.
The 18-year-old succumbed to his wounds 26 days later at Dhaka's Square Hospital. The family later started the murder case at Panchlaish Police Station against five persons.
They are Riad, his father Shah Selim Tipu, Saju, Danny and Shaon. Of them, Riad has been absconding from the start while Shaon has jumped the bail.
Himu had passed his A-Levels examinations and was a member of Shikor, a local group against drug abuse.
Those convicted of his death were involved in dealing of drugs among other criminal offences, Himu's uncle Sri Prakash Das, who filed the murder case, said in his testimony.
They assaulted Himu and set dogs after him because he was against what they were doing, said Das.
The feud between Shikor and the youths, now facing death, began after one M Ismail Ahmed filed a general diary on behalf of the organisation on Oct 26, 2011.
"The court ordered that the five be executed by hanging after finding them guilty under Section 302/34," said Prosecutor Anupam Chakraborty.
Section-34 of the Penal Code explains acts done by several persons with a common intention for which each of such persons is liable in the same manner.
Section-302 falls under offences affecting the human body and ensures death as punishment for murder.
The convicts can move the higher court against their sentences, but fugitives are allowed appeal only if they surrender.
Source: bdnews24