EC hastily announces schedule for 2 city polls to favour ruling party: BNP
Nayadiganta English Desk    23 December 2019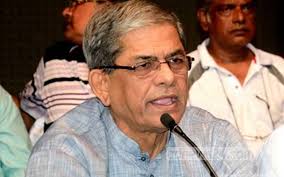 BNP on Monday feared that the Election Commission (EC) hurriedly announced the election schedule for the two Dhaka city corporations as part of its 'old strategy' to ensure the victory of ruling party candidates.
"We think the election schedule of the Dhaka south and north city corporations was announced hastily. We fear the Election Commission hurriedly did it with a motive to ensure victory of the ruling party candidates," said BNP Secretary General Mirza Fakhrul Islam Alamgir, UNB reports.
He came up with the remarks while talking to reporters after a meeting of BNP standing committee members at its chairperson's Gulshan office.
The BNP leader said their party is going to join the upcoming city polls as per their earlier decision to take part in all the elections to local bodies.
He, however, said they will observe whether congenial atmosphere is created for the polls.
The elections to Dhaka South and North city corporations will be held on January 30 next, according to a schedule announced by Chief Election Commissioner KM Nurul Huda on Sunday.
The entire elections will be held using electronic voting machines (EVMs) instead of traditional ballot papers, the CEC said.
Fakhrul strongly opposed the EC's decision to hold the election using EVMs. "It's an objectionable move and we denounce it. We would like to say scopes will be there to manipulate the election results if EVMs are used. So, we oppose the EVM use in the election."
He said their party will sell nomination forms on December 26– from 10 am to 4pm– among those willing to contest the elections to the two city corporations as mayoral candidates with BNP's tickets.
The BNP leader said the aspirants will have to submit the nomination forms to the BNP central office by 4pm on December 27.
Later, the party nomination board will interview the aspirants on December 28 at the party chairperson's Gulshan office.
Fakhrul said their standing committee members thanked the Amnesty International for issuing a statement voicing deep concern over the health condition of BNP Chairperson Khaleda Zia.