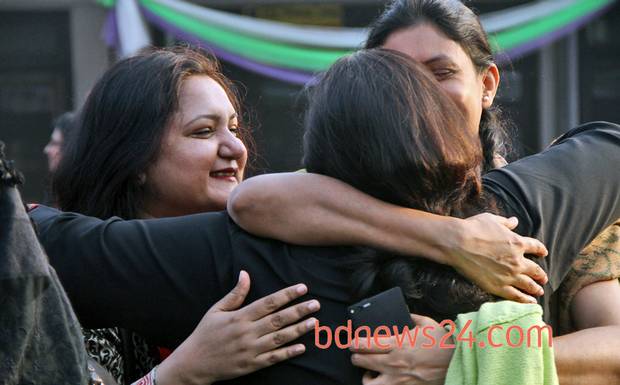 Former students of the Dhaka University's English department went back in time to their campus days, meeting old friends and chatting away the hours in the warm evening glow.
The Inspector General of Police Hassan Mahmood Khandker was seen fetching his own coffee before joining friends seated around a round table, talking probably of things past and present.
He told bdnews24.com that he rarely ever came to the TSC (Teacher-Student Centre) in his university days. More time used to be spent with friends in the hall, the department, and Shahid Miah's canteen.
"Nowadays, the university has become almost synonymous with the TSC. The past comes alive here. I get to meet many of my departmental friends, some of whom I have not met for ages," the top cop said.
Seven friends formed a circle around him, a student of the 1976 batch. Among them was Delwar Hossain Bhuiyan, Deputy Managing Director of Sonali Bank.
"This group of ours stays in Dhaka. So, we meet often. And we are always in touch over the phone if don't get to meet them in person," he said.
"Senior Secretary of the Privatisation Commission Rokeya Sultana, (Comptroller and) Auditor General Masud Ahmed, Senior Secretary of Parliament Secretariat Asraful Maqbul also belong to our batch. We are waiting for them," said Bhuiyan.
And even as he waited for his old friends to turn up, Dhaka Metropolitan Police Commissioner Benazir Ahmed, informally clad in shirt, trousers and jacket, saluted Hassan Mahmood.
The two officers exchanged pleasantries before the Inspector General asked his junior to seek out waiting friends. Before long, Benazir was among them, engaged in a seemingly unending conversation.
"I am back on the campus. It feels as if I am a student again," he said with tingling excitement.
Deputy Secretary to the Ministry of Water Resources Mohammad Hiruzzaman came with wife, Akhter Zahan, and their three sons.
A former student of Government Carmichael College in Rangpur, Akhter Zahan told bdnews24.com, "My husband was a student in this university. He had spent hours with friends at the TSC; so, he has very fond memories.
"I have been hearing of the TSC for several years from many people. Today, I am here, and feeling really good," she said.
Hiruzzaman has been transferred to Dhaka recently and has been looking for old friends ever since.
He introduced his wife to AKM Dinarul Islam, a year's senior to him at the university and currently with the ADB on lien from his post of Deputy Secretary, ERD.
"There was a time when we would spread out sheets of paper and eat from it. There are so many memories, yet we had not seen each other for so many years," Dinarul told Akhter.
"We eagerly wait for this day," he told bdnews24.com.
"I was posted outside Dhaka before. I have come to this event after seven to eight years. There are so many people I have not met for several years," said Hiruzzaman.
Hiruzzam said he was meeting Dinarul, his senior in government service, after almost 15 years.
"This gives a fantastic feeling. During our university days, we cooked our own food. Now, we are both government employees. But we had not met for a very long time."
In fading winter light, next to the gathering of the former students of the English department, delicious pitha (sweets made with rice) was being cooked, adding a delightful flavour to the nostalgic gathering.
Source: Bd news24