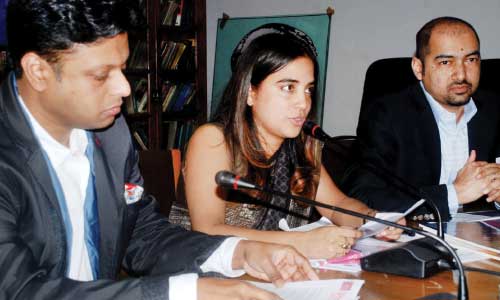 The three-day Dhaka Literary Festival-2015 will be held on Bangla Academy premises in November 19-21.
The festival co-directors— Sadaf Saaz, Ahsan Akbar and K. Anis Ahmed, at a press conference held at the Bangla Academy on Sunday, announced the date.
Nobel laureate in medicine, Harold Varmus, also the author of The Art and Politics of Science, is expected to attend the festival this year.
Among others, author Nayantara Sahgal, Pakistani human rights lawyer Asma Jahangir, British Journalist and TV presenter Jon Snow, Indian bestseller Shobahaa De and Indian historian and writer Ramachandra Guha are also expected to attend the event.
The festival will also present a wide array of international talents of diverse origins and genres like top Cuban science fiction writer Yoss, Kenyan storyteller Muthoni Garland, Palestinian poet Ghassan zaqtan, novelist Amit Chowdhury, poet Arvind Krishna Mehrotra and film maker Leslee Udwin.
Shamsuzzaman Khan, director general of Bangla Academy, Zafar Sobhan, editor of the English daily Dhaka Tribune, Sohail RK Hussain, managing director and CEO of City Bank, and Akhtari Momtaj, secretary of the ministry of cultural affairs, also attended the press conference, among others.
Source: New Age