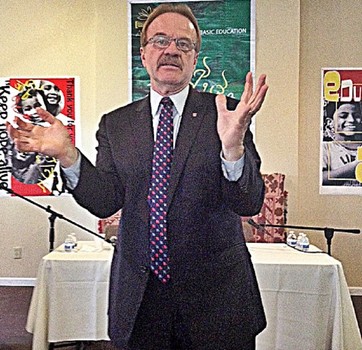 Dan Mozena, the American ambassador to Bangladesh, recently visited Silicon Valley in California to address the local diaspora on the importance of universal education in Bangladesh. The town-hall meeting was organized by Agami, a non-profit organization working to promote education for under-privileged children of Bangladesh.
"Lack of education is the biggest impediment to progress in Bangladesh," said the ambassador to the gathering of over 100 Bangladeshi-Americans. "There has certainly been progress. Enrollment in primary schools is high. More girls than boys attend schools. The flip side is that by the third grade, 30% of the students drop out. At the grade 5 level, many students still cannot read, write or work with numbers."
The ambassador emphasized the need for an educational revolution in Bangladesh, similar to the agricultural revolution that has made the country self-sufficient in rice and is expected to make Bangladesh self-sufficient in food within a decade. "Bangladesh is the most densely populated country in the world (160 million people in a land the size of Iowa), with the exception of city-state Singapore. For Bangladesh to become self-sufficient in food is nothing less than a miracle. Bangladeshis are among the most energetic, dynamic, creative, entrepreneurial and resilient people in the world. But it will take quality education to unleash all that potential," observed the ambassador.
One of Bangladesh's strength is its manpower, which the country exports to build other countries. "But this manpower is mostly unskilled labor, people carrying bricks on their head," said the ambassador. What Bangladesh needs is to export skilled and semi-skilled labor. Bangladesh should send doctors and nurses and engineers to build the Middle East and South Asia, and, of course, use the talent of its people to build Bangladesh itself."
Ambassador Mozena's passion for Bangladesh is palpable. He has launched a massive outreach program throughout the country to bring the gifts of reading and writing to millions of kids. There are "American Corners" in Sylhet, Rajshahi, Khulna and Chittagong, with similar centers also planned for Barisal and Mymensingh. These "Corners" provide basic reference materials on the United States, Internet terminals, video viewing facilities, and English-language tapes, as well as guidebooks for students wanting to study at American universities.
"Currently, only 3,348 Bangladeshi students study in America. But there are 10,000 Nepalese students in America now. (Nepal has a population of about 28 million!) This is ridiculous," said the ambassador. "I want to increase the number ten-fold, to 33,480. That's what it should be for Bangladesh."
Under Mozena's watch, the number of Bangladeshi students admitted to American Universities has gone up by 15-17% in the last 2 years. But it can be more, much more. Many potential students fall under the clutches of so-called facilitators, scammers by any other name, who extort money from them in return for filling out application forms that they claim will guarantee visas. "But our staff can smell these fraudulent applications from two blocks away, as soon as the students get down from their rickshaws! Is it any wonder their applications are marked with a 'Denied?'", asked the ambassador. "The steps for what students need to do, and what not to do, to get visas are clearly explained in the American Corners. If they had been honest, instead of playing games, they would have gotten their visas. These facilitators, whose fraud is off the charts, have destroyed, and continue to destroy, many valid applicants."
The ambassador touched on the Edward M. Kennedy (EMK) Center for Public Service and the Arts (formerly United States Information Services or USIS) in Dhanmondi, Dhaka, located in a neighborhood that is home to 70,000 students. The EMK Center is a non-partisan platform where the youth can come together for open dialogue, responsible activism, individual and artistic expression, and personal and professional development.
He also focused on the Water and Sanitation Hygiene Program (WASH) that his office has launched in Bangladesh to ensure that school students, particularly girls, have access to clean, separate and secure toilets. A terrible and tragic fact about Bangladesh is that many girls are forced to drop out of school only because they do not have access to clean bathrooms and toilets. This can take a heavy toll on their health, especially during their menses. "It costs no more than a couple of thousand dollars to provide sanitary and hygienic facilities in any school to enable girls to stay and complete their education. My staff and I are funding such projects in Barisal, Mymensingh and other divisions." The ambassador lauded Agami for working tirelessly to promote and fund such projects throughout Bangladesh.
Professor Nasreen Rahim of Evergreen Valley College (EVC) in San Jose, CA, is working with the International Student Program to provide online General Education (GE) classes to students in Bangladesh. The idea is that if students can complete these low-cost online community college courses, they have an excellent chance of transferring to American universities. She is also developing an online Teacher-Certificate program that can potentially evolve into a Bachelor's Degree in the future.
Ambassador Mozena vigorously approved of the idea. "Many Bangladeshis think only of Harvard when they consider studying in America. But there are many other excellent educational institutions in America. Besides, Harvard or other ivy-league schools may not be a good fit for many Bangladeshis. For them, community colleges may be the best choice." He exhorted Professor Nasreen to pursue her project with passion and patience until she succeeds.
Dan Mozena was born and raised on a family dairy farm in northeast Iowa and spent the first two decades of his life milking cows and doing the daily chores of a typical family farm. He began his schooling in a one-room country school with a total student population of 12 spread over eight grades. He graduated from Iowa State University in Political Science and History and later from graduate school at the University of Wisconsin, Madison, in Public Administration and Political Science. His diplomatic postings took him to New Delhi, Lusaka, Kinshasa, Angola and other parts of the world.
Mozena's farm experience instilled in him the importance of straight talk and hard work. His early schooling taught him the value of quality education as the key to a meaningful life. His experience in Peace Corps and in developing countries as a diplomat convinced him that ordinary people are capable of performing extraordinary deeds.
He has brought all these qualities to bear on his responsibility as the U.S. ambassador to Bangladesh, a post he has held since November of 2011. He believes in the strategic importance of Bangladesh as a moderate, tolerant and secular democracy. Although obstacles remain, such as corruption, violence, political instability and the tendency of the government to remain a prisoner of the past, allowing other nations to surge ahead while it stumbles and falls, ambassador Mozena is convinced that through hard work, innovation and creativity, combined with the impetus provided by America's soft power, Bangladeshis can transform their country into a beacon for other nations to follow. He urged his audience to visit this Website to see how they can combine their considerable experience, expertise and resources to launch innovative programs on nutrition, healthcare, education and other worthy projects in Bangladesh.
Ambassador Mozena's message came through loud and clear for the Bangladeshi diaspora of California's Silicon Valley. They were energized by his inspiring words and example to commit themselves to several educational and healthcare projects to empower the marginalized and under-served segment of the Bangladeshi population.
Source: Examiner.com