Dhaka fire in apartments used as chemical store kills 80
Police warn death toll may rise in 'highly combustable' blaze in old part of Bangladesh capital
At least 80 people have died after a massive fire engulfed apartment buildings that also housed chemical warehouses in the old city of Bangladesh's capital Dhaka.
Dozens of people were trapped in the buildings, unable to escape onto narrow streets clogged with traffic, as the highly-combustible stores of chemicals, body sprays and plastic granules erupted in flames. About 50 people were injured, some critically burned.
The fire ignited around 10.40pm on Wednesday night and burned until after sunrise, with heavy smoke still visible over the site early on Thursday.
Bodybags carrying charred human remains were taken to nearby hospitals and Bangladesh's fire service chief Ali Ahmed said the death toll was likely to rise. "The number of bodies may increase," he said. "The search is still going on."
"There was a traffic jam when the fire broke out. It spread so quickly that people could not escape," he told Agence France-Presse, describing a part of town where the streets are very narrow and the residential buildings stand inches apart.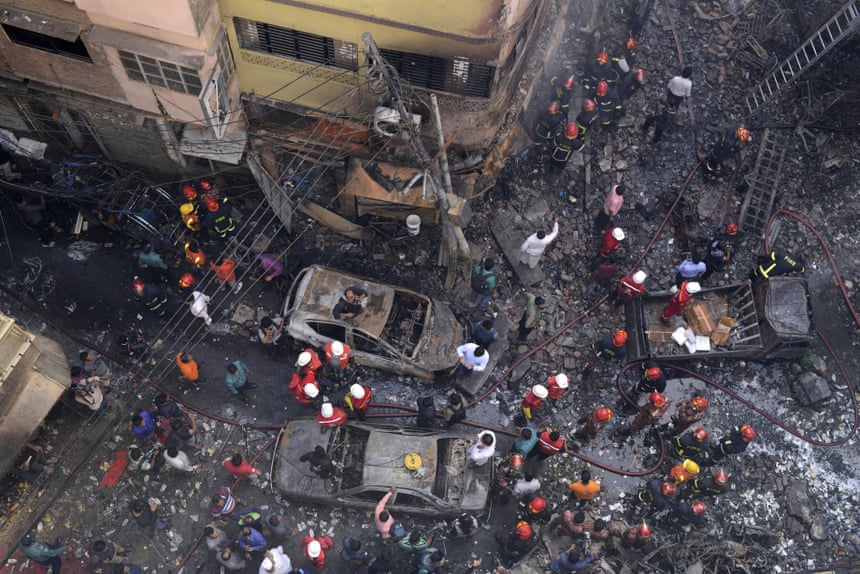 It raced through at least five buildings that were being used to store flammable chemicals.
A nearby community centre that had been hosting a bridal party was also caught in the blaze, trapping the entire group and injuring many.
The deputy commissioner of Dhaka metropolitan police, Ibrahim Khan, said at least two cars and 10 cycle rickshaws were burned in the fire.
"The victims included passersby, some people who were eating food at a restaurants and some members of the bridal party," he said.
More than 200 firefighters were on the scene but struggled to contain and the fire for nearly 12 hours. "This is not like any other fire," a fire official said, adding the inferno became so devastating due to the "highly combustible" chemicals stored there.
Burned-out, empty deodorant canisters which had been stored in a building littered the road and gas cylinders could be heard exploding throughout the night, witnesses said.
A police inspector at the Dhaka Medical College Hospital said at least 45 people were injured, including four people whose conditions were critical.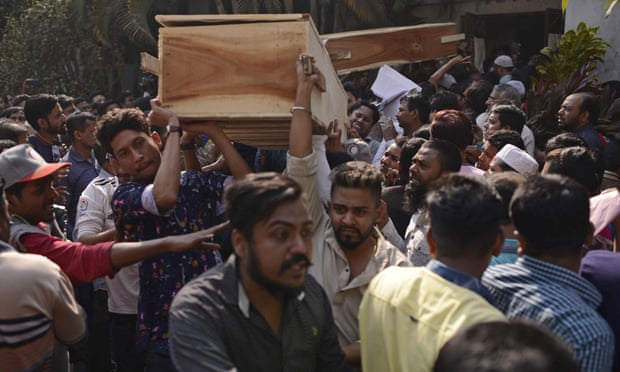 Hundreds of people rushed to the hospital to look for their missing relatives.
Dhaka city has been estimated to house around 1,000 chemical factories that have long been regarded as a ticking time bomb. Around 850 are illegal, according to the environmentalist group Poribesh Banchao Andolon.
A survey by Bangladesh's fire department two years ago found 360 chemical warehouses in residential buildings in two neighbourhoods of old Dhaka.
A similar fire in 2010 in an old Dhaka building, which was also used as a chemical warehouse, killed more than 120 people in one of the city's worst-ever fire tragedies.
Authorities have repeatedly promised to crackdown on the illegal warehouses and launched the most recent drive earlier this month, but have made little progress.
Additional reporting by Redwan Ahmed in Dhaka