Prothom Alo
Though the Bangladesh government has paid for the vaccine in advance, no government agency signed any agreement with Serum Institute. It was the private company Beximco that signed the agreement and so Beximco should now put pressure on Serum Institute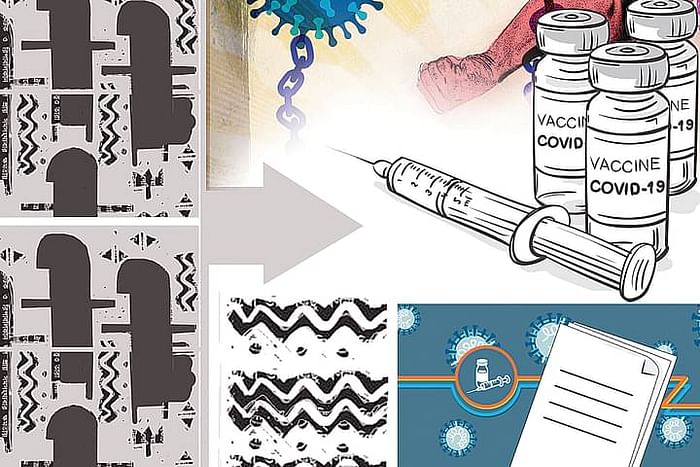 When the Covid-19 pandemic broke out towards the end of 2019 and the beginning of 2020, health experts observed the trends in the virus and concluded that the only way to tackle this was by means of extensive vaccinations to create herd immunity. Efforts kicked off from then to come up with a vaccine and within a short time, several vaccines were developed. Vaccines are now being administered all over the world, though poorer countries have not been that successful in procuring the vaccines.
Serum Institute of India has been manufacturing and marketing the vaccine development by Oxford-AstraZeneca. In November last year, Beximco Pharma signed a deal with Serum Institute to supply our health department with 30 million (3 crore) doses of the vaccine. The Bangladesh government has already paid in advance for 15 million (1.5 crore) doses. Serum was supposed to have supplied Beximco with the vaccine over a period of six months, in consignments of five million (50 lakh) doses every month.
The first consignment of five million (50 lakh) doses reached on 25 January 2021. The second consignment, this time of two million (20 lakh) doses, arrived in the last week of February. The remaining doses of the second consignment were to arrive in the first week of March. Around the same time, more vaccines were to arrive as a grant from COVAX.
None of these vaccines have arrived. In total, Bangladesh had received a bit over 10 million (1 crore) doses from India, inclusive of 3.2 million (32 lakh) doses given as a gift. Till 25 April, 58,18,000 (58 lakh 18 thousand) people were given the first dose of the vaccine. The second doses began to be administered from 8 April and so far 23,27,000 (23 lakh 27 thousand) have been given the second dose. Another 3.5 million (35 lakh) doses are required for those who have received the first dose, but there are only 2.1 million (21 lakh) doses of vaccines in stock.
Right at this juncture, an unprecedented spread of coronavirus has struck India and at the same time, for various reasons Serum Institute failed to reach its targeted production of the vaccine. Struggling to tackle the crisis, the Indian government has halted export of the vaccine. This decision has become a nightmare for Bangladesh. From Monday, the administering the first dose has been halted. In additional to that, the second dose has become uncertain for around 1.3 million (13 lakh) to 1.4 million (14 lakh) people.
Though the Bangladesh government has paid for the vaccine in advance, no government agency signed any agreement with Serum Institute. It was the private company Beximco that signed the agreement and so Beximco should now put pressure on Serum Institute.
We tend to shut the stable door after the horse has bolted. Now that we are in this crisis, what lessons have we learned? Firstly, it was foolhardy to rely on one single source for such a massive initiative
The Beximco managing director said they are making an effort in this regard and it would be good if the government made an effort too. On 24 April he advised that India be 'sternly addressed'. The agreement between Beximco and Serum is a business contract. So it is Beximco who can deal with them firmly, not the government.
Diplomatically speaking, Bangladesh can make an appeal and it has done that. Initially India responded, expressing its regret at not being able to do anything in this regard. But it will not do to give up. Diplomatic efforts must continue so that Bangladesh get at least the 80 million (8 lakh) doses for which it has already paid. And at least 2 million (20 lakh) doses must be supplied before our existing stock exhausts on 15 May so that those who have taken the first dose, can get the second.
Also Read
Covid-19: Shortage of vaccines, interruption in planning

Bangladesh can take up another initiative on the diplomatic front. On his recent visit to Bangladesh, John Kerry had said that after the US had reached a certain level in their vaccinations, they would provide vaccines to other countries including Bangladesh. The White House has expressed its concern over the spread of Covid in India and its willingness to extend assistance. The US chamber of commerce has urged that the surplus AstraZeneca vaccines in storage in the US, be provided to India, Brazil and other hard hit countries. This is the right time for Bangladesh to make an effort to avail some of those vaccines.
It was a correct decision to shut borders with India for two weeks. This can be extended further if needed
We tend to shut the stable door after the horse has bolted. Now that we are in this crisis, what lessons have we learned? Firstly, it was foolhardy to rely on one single source for such a massive initiative. The manner in which India abruptly held up the vaccine consignments is a sort of breach of trust, simply unwarranted and unexpected from a country considered to be a friend. However, India took this action in context of the deep crisis they are facing. Such disasters often make people behave in a selfish manner. Out government should have taken the possibility of such a circumstance into account.
Secondly, even if India did provide the 30 million (3 crore) vaccines on schedule, this would still be absolutely inadequate to build up the required herd immunity. That is why it was imperative to look into alternatives sources of the vaccine from the very outset. The initiative with China and Russia could have been taken at least two months ago.
Thirdly, in two or three months time when the pandemic comes under control in India and Serum's capacity increases, then they will come forward on their own accord to sell the vaccine to Bangladesh. If the prices are reasonable, we will agree to buy it from them. But whatever if supplied, we must keep half in stock for the second does when administering the first dose. We cannot depend on unsubstantial assurances that the supply will be fine.
Also Read
'It's not about charity, it's all about business and geopolitics'

Finally, Bangladesh has long had the capacity to manufacture vaccines. However, when new technology is developed, instead of adopting and applying the new technology, we followed the World Health Organisation's advice and halted the vaccine manufacturing programme. The time has come to take up the latest technology and resume the manufacture of vaccines. There has been some talk of this with Russia and this should be followed up in all earnest. In the future, Bangladesh can become a major vaccine manufacturing country, not just for us, but for the global market. The demand for vaccines will be here for a long time to come, perhaps forever.
Bangladesh has seen a significant increase in the number of deaths during the second wave of coronavirus. Next door in India the virus is spreading like wildfire. This is a grave warning to us. Our health minister finally made an important statement. He said, unless we take lessons from the past, we may face a situation like India here too. We must take precautions to avoid this.
It was a correct decision to shut borders with India for two weeks. This can be extended further if needed. Also, awareness and following the health and hygiene guidelines must become a part of our lives in order to avoid a large scale catastrophe.
* Md Touhid Hossain is former foreign secretary of Bangladesh.
* This column appeared in the print and online edition of Prothom Alo and has been rewritten for the English edition by Ayesha Kabir