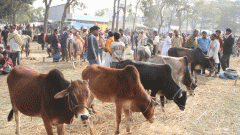 With Eid only a couple of days away, cattle traders are demanding inflated prices for moderately-sized cows, buyers have alleged.
Although price trends were different at separate cattle markets in the capital, the Dhaka Tribune received reports of unusual asking prices set by cattle traders.
In the city's largest cattle market in Gabtoli, the last few days saw asking prices reportedly going up as far as Tk22 lakh for a single cow, while a Rajshahi trader named Matin Miah yesterday put a Tk13 lakh tag on his cow.
Sources said the Tk22 lakh cow was eventually sold for Tk10.5 lakh.
Despite the wayward prices, the cattle markets in the city finally started to gather some momentum yesterday morning, which was not dampened by a spell of afternoon rain.
Although a higher number of customers thronged the cattle markets yesterday, most of them expressed discontent at the high prices.
"At first, my budget was Tk60,000. But I was forced to increase it to Tk75,000 to buy a cow that weighs approximately 140kg. This makes each kg of meat cost more than Tk500," said buyer Mamunur Rashid at Gabtoli.
"What can I do? Only two days remain before Eid. So, I had to buy it as no medium-sized cow is available at my initial budget. Most traders are demanding large amounts for small cows, maybe because Indian cows are still not available."
The traders, however, were happy with how things have been turning out.
Rahmat Ali from Jhenaidah told the Dhaka Tribune that since Sunday he has sold 12 out of the 35 cows he brought to the Gabtoli market.
"I hope that the other 23 cows will be also sold by Friday. Some customers also come on the evening of Eid day," he said.
Many cattle traders said if trends turn out to be like previous years, customer numbers will increase from today and hit its peak tomorrow – the first day of the three-day Eid-ul-Azha holiday.
This year, Dhaka city has 22 makeshift markets alongside the permanent market in Gabtoli.
Source: Dhaka Tribune