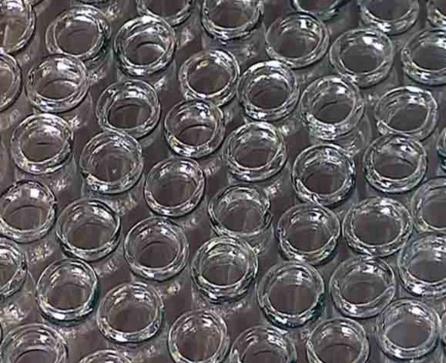 People of Shehari and Dumuri villages at Nashratpur union under Adamdighi upazila of the district have found a profitable way of self-employment without others' support.
They have been manufacturing a large amount of glass toys and homeopathy medicine bottles with broken glass bottles, cups, plates, etc, for 45 years.
The business started 45 years ago with an investment of only Tk 1,000, and changed the socio-economic status of the villagers. Its turnover is around Tk 30 crore per year now, creating employment for around 2,000 people, said Md Akbar Ali, 62, one of the pioneers of the business. He said most of the employed are women and teenage boys and girls.
Akbar said the homeopathy medicine bottles are in high demand due to their good quality, low-price and durability. There is a possibility of exporting them to neibouring countries, he said, adding that the government should support and give easy term loans for the purpose.
There are around 400 small and cottage industries in Shehari and nearby villages that cover 75 percent of the bottle market in the country.
Hashem Ali, 40, a wholesaler of Shehari, has been selling the items in the wholesale markets for around 12 years, and profiting around 10 to 12 percent per year. "I started my business by investing Tk 30,000, and the capital has risen to Tk 2.5 lakh," Hashem Ali said. He sells the bottles in Khulna, Jessore, Sylhet and southern parts of Bangladesh.
Hamid Sakider, 58, has been working in a cottage industry as a day labourer since independence. "Before joining the industry, I was a jobless youth. But I earn at least Tk 300 per day now," he added. With his earnings, he has purchased eight decimals of land and pays for the education of his son, Alal, 23, who also works in the bottle making industry besides studying in a college.
Aleya Begum, 40, been has working in the industry for 20 years. "I bought cultivable land and made a home with my income. I purchased four goats within a few years of working in a bottle making factory. I also spent Tk 70,000 on my daughter's marriage," she added.
Bikash Roy, 20, has been working in the glass factory for around six years and earning like Aleya. He is contributing to his family with Tk 500 per week. "Before joining the profession, I was unemployed and had to depend on my family for pocket money," added Roy.
With no formal training, they produce about 30 lakh pieces of small and medium medicine bottles every day. They urge the government to develop communication in the area and provide soft loans for the development of the industry.
Solaiman Ali, advisor of the Glass Factory Association of Adamdighi upazila, said many glass factories were established in the villages and around 5,000 people have got employment so far. They need government's financial support.
Shahjahan Ali, social service officer of Dupchanchia upazila, said the government is interested in providing loans to encourage people in the small and cottage industries. The poor people will be provided financial help for the betterment of their business.
Source: The Daily Star