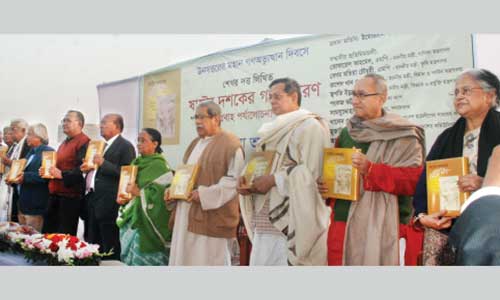 Politicians, academics and women leaders on Sunday at a publication ceremony of a book said the mass upsurge of 1969 played an important part in bringing about the declaration of war of independence of Bangladesh in 1971.
The people came on to the streets in Dhaka city during the uprising ignoring the repression of the law enforcers of the then East Pakistan, they said.
Samaj Bikash Prakashoni organised the publication ceremony of the book Shater Dashaker Ganajagaran, Ghatanaprobaha and Pargalochana, written by Shekhar Dutta, president of Moni Singh-Farhad Smriti Trust.
Dhaka University professor emeritus Anisuzzaman said that the book would play an important role in documenting the history of the mass upsurge of 1969.
Writer Selina Hossain, who chaired the publication ceremony, said we need another people's upsurge to save the country from the hands of militant forces and establishing a non communal democratic Bangladesh.
Tofail Ahmed, advisory council  member of Awami League and also commerce minister said it was significant that the book was published on the day of the mass upsurge in 1969.
He thanked the writer for writing a book on the 'real' history of the mass upsurge.
Recalling the day in 1969, Tofail saidhe was then the vice president of Dhaka University Central Student Union and played a role in organising the mass upsurge.
Mujahidul Islam Selim, the president of the Communist Party of Bangladesh, said Shekhor tried to delve into the details of the  history of the mass upsurge of 1969.
He termed the book a historic one and said the next generation could use the book for information.
He hoped that the book would check the distortions of the history of the mass upsurge.
Okya NAP president Pankaj Bhattachrya called on the leaders who were involved with the mass upsurge to write more books on the issue.
Nuh-ul Alam Lenin, presidium member of Awami League, Gana Forum leader Shamsuddoha, former Chhatra League general secretary during the upsurge Khaled Mohammad Ali, Dhaka City Awami League central leader Mukul Chowdhury,  Mahila Parishad president Ayesha Khanam, writer of the book Shekhar Dutta, trust leaders Mahbub Zaman, Muhammad Hilauddin and Quamruzzaman Noni, also spoke at the ceremony.
Source: New Age