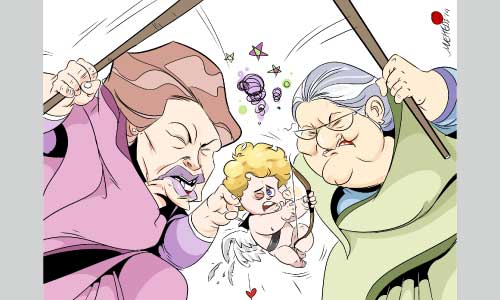 A good number of long-distance buses operated during day time across the country, while the capital saw a healthy rush of traffic on Friday, the 39th straight day of indefinite blockade.
The ongoing blockade called by the BNP-led alliance appeared to hardly affect life, despite irregular incidents of vandalism and arson attack.
No major violence was reported till Friday evening as the blockade appeared to slacken off for the weekend.
A few vehicles, however, came under petrol bomb attack, and some others were vandalized, since Thursday night across the country, leaving at least one person with burn injuries.
Jamaat-e-Islami called a dawn-to-dusk strike in Sirajganj upazila on Sunday protesting at the arrest of its municipality unit ameer. Meanwhile, Lakshmipur BNP called hartal at the district on Sunday.
The capital saw huge tailbacks since the morning as thousands of SSC examinees and their guardians came out for rescheduled examinations, while most of the schools were open.
Law enforcers continued to round up BNP-Jamaat activists around the country including 18 in the capital, 68 in Pabna, 53 in Rangpur, 37 in Khulna, 18 in Gaibandha, 16 in Narail, 10 each from Chandpur and Bogra, eight each from Chittagong and Kurigram, six each from Noakhali and Manikganj, nine in Feni, seven in Comilla, besides others elsewhere.
Unlike other days under blockade, long-distance buses crowded the highways during day time.
Most the scheduled buses on the day left for other districts on the back of a huge rush of passengers, confirmed transport workers at Gabtoli, Mohakhali and Saydabad bus terminals.
'Due to the weeklong general strike and blockade, passengers have been using Friday and Saturday for long-distance journeys,' said officials of Eagle Paribahan at Gabtoli.
They said 18 to 20 of their scheduled buses left for different districts, against a usual six to eight buses on other blockade days.
The buses, however, avoided night time journey as instructed by the government.
Launch services were regular, but train services have been experiencing delays due derailments and acts of sabotage on rail tracks.
In Jhenaidah police arrested two Awami League leaders, including a union parishad chairman of Shailkupa upazila, Friday evening, on charge of carrying out subversive activities during the ongoing blockade, said Shailkupa police officer-in-charge MA Hashem Khan.
The arrested were Shoyeb Joarder, Dudhchor UP chairman, and his brother Aiyub Joarder.
At Feni, miscreants torched a truck and vandalised two petrol pump stations after attacking a petrol pump station in Dagonbhuiyan early Friday morning.
Miscreants also exploded two crude bombs in front of Central High School in Feni town around 10:00pm when students were sitting for SSC examinations inside. Police recovered two more unexploded crude bombs.
At Sirajganj, the Pangasi union parishad office in Raiganj upazila was set on fire early Friday by pro-blockade activists.
The pickets threw firebombs at the UP chairman's room on the ground floor around 2:00am. None, however, was inside at the time.
In Noakhali, fire broke out at the civil surgeon office Thursday night burning the health education office.
Police, however, could not confirm whether the fire originated from any malicious act.
Law enforcement agencies also recovered several exploded crude bombs and firebombs from places.
The Rapid Action Battalion (RAB-6) personnel recovered a large number of firearms and cocktails from Tribeni Bazaar under Sailkupa upazila in Jhenaidah Friday morning.
Rab-6 Squadron Leader Niaz Mohammad Foysal said, acting on a tip off, a RAB team raided Tribeni Bazaar and seized two shutter guns, ten cocktails and a chapati left abandoned under a banyan tree.
RAB also recovered five firebombs and seven crude bombs from Chittagong's Chandgaon area early Friday.
Police recovered three firebombs from Feni sadar's Debipur area.
Source: New Age