The Bangladesh Knitwear Manufacturers and Exporters Association (BKMEA) has urged the BNP to withdraw its nationwide indefinite transport blockade to maintain the upward trend in export earnings.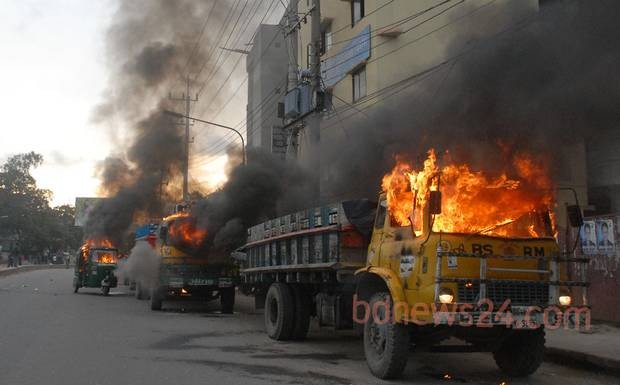 BKMEA President AKM Selim Osman in a statement on Saturday urged the party to call off the blockade to allow the country's development and the expansion of Bangladeshi knitwear exports to new markets.
He also called upon the political parties to refrain from enforcing violent programmes such as strikes and blockades in future.
The development of the readymade garment and knitwear factories had foundered due to political unrest, he said.
He said political violence during programmes like blockades or strikes were hindering the knitwear industry's growth in new markets.
"And, now, unwanted violence is pushing back development initiatives just when we began benefit from the growth. Under these circumstances, the 7.3 percent GDP growth goal won't be achieved. It's a matter of concern now whether we'll reach the 6.5 percent GDP growth."
Bangladesh's average knitwear export growth rate in new markets such as Australia, Japan, Turkey, Russia, China, South Africa, Malaysia, New Zealand, South Korea, India and Brazil was 17 percent in the 2013-14 financial year, said Selim Osman in the statement.
"But the latest political unrest is hindering knitwear export to these new markets and putting the export process at grave risk."
Source: bdnews24