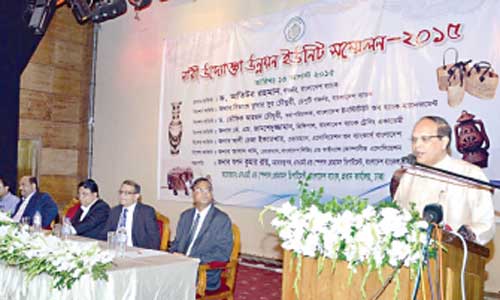 Experts on Thursday suggested that the banks should help women entrepreneurs to market their products manufactured using SME loans disbursed by the banks.
They said that the banks were now limiting their activities only to disbursing loans to the clients but they should also help the women entrepreneurs to market their products.
The opinion came from a conference of women entrepreneurs development unit of the banks and non-bank financial institutions organised by Bangladesh Bank at the BB training academy in the capital.
BB governor Atiur Rahman, who attended the conference as chief guest, said the central bank had already asked every branch of the banks to discover at least three new entrepreneurs in a year.
So the existing 9,000 branches of the scheduled banks would have to discover 27,000 new entrepreneurs within this year, he said.
He asked the banks to introduce new SME loan products considering the entrepreneurs' demand.
Some women entrepreneurs demanded that the banks should help them to market their products.
They said that a significant number of women entrepreneurs dropped out from the business every year as they failed to market their products.
BB deputy governor SK Sur Chowdhury said that the women entrepreneurs association should play a role in solving the problem of the entrepreneurs.
The banks should sign memorandum of understanding with the women entrepreneurs association for marketing the products they manufacture, he said.
The SME entrepreneurs have recently introduced a dedicated association namely IamsmeofBangladesh which will play a vital role in solving the entrepreneurs' problems in the days to come, he said.
Bangladesh Institute of Bank Management director general Toufic Ahmad Choudhury said that the commercial bankers had earlier limited their works to loan disbursement and deposit collection.
But the central bank has recently taken a number of innovative programmes like SME initiatives to stimulate the financial inclusion, he said.
The bankers will be able to develop their skill by involving with the central bank initiative, he said.
Atiur Rahman introduced a new apps namely SME e-shop to help the entrepreneurs so that they will be able to reach their products in the market.
The entrepreneurs will place their products on the website and the clients will be able to purchase their desired products through online.
Association of Bankers, Bangladesh president Ali Reza Iftekhar, Bangladesh Leasing and Finance Companies Association president Asad Khan, BB deputy general managers Wahida Nasrin and Ashraful Alam, among others, addressed the programme.
Source: New Age