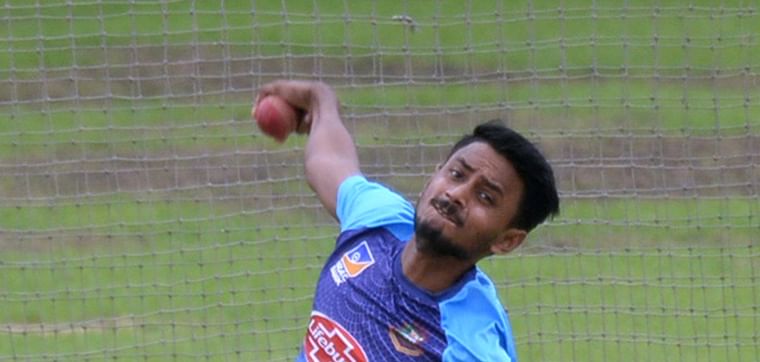 Bangladesh leg-spinner Aminul Islam Biplob said he is eager to win a place in the Test squad, reports UNB.
The bowler earned his international cap playing for Bangladesh in T20Is. He was a surprise inclusion to the team as a leg-spinner.
After the lockdown imposed due to the COVID-19, Aminul started individual training recently. He did his drill at Sher-e-Bangla National Stadium on Wednesday. After the practice, he talked to the media and expressed his desire to play longer version cricket for Bangladesh.
"Every cricketer has the ultimate goal to play red-ball cricket at the international level. I'm also not different. If I get a chance in future, I will surely try my best to establish as an effective red-ball cricketer," Aminul told the media.
Aminul is yet to prove his mettle as a bowler despite playing seven T20Is for the Tigers. He is even yet to prove his efficiency in first-class cricket as well. In National Cricket League 2019, he was inducted to first-class cricket and till the date, he played just a single game in the format and bagged a wicket.
"I had nothing to do during the lockdown (since there was no competition). I just tried to be fit. I ran in the treadmill and some drill to take care of my fitness. Along with these, I used to see video footage of my own bowling. There was nothing to do," he added.
"As a bowler, I come to know my strength and weakness when I bowl to the batsmen. I had no chance to bowl to a batsman during the lockdown. I got this chance in the ongoing training programme which is really great for me. I started bowling practice with leg-spin. Now, I'll add variation in coming days in my practice," Aminul further told the media through a video message.
Aminul got his T20I cap against Zimbabwe in September 2019. Since then, he played a total of seven T20Is and scalped 10 wickets with the best figures of taking three wickets conceding 34 runs against Zimbabwe earlier this year.
The 20-year-old bower took two wickets when Bangladesh earner their maiden T20I victory over India last year in Delhi.
Currently, Bangladesh national team is preparing to tour Sri Lanka later this month for their first three-match Test series in six years. The Tigers will fly for the island nation on 27 September and the series will take place from 24 October.