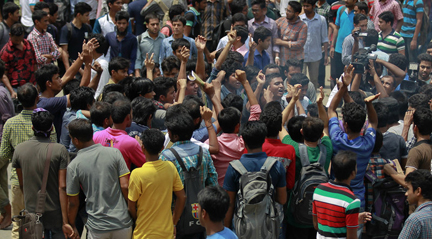 A 28-year-old atheist law student has been killed in Bangladesh. The attack follows a string of murders last year targeting outspoken advocates of secularism.
Nazimuddin Samad, a student at Jagannath University, was hacked and shot on Wednesday night while he was walking in Bangladesh's capital, Dhaka, The Associated Press reports. Multiple attackers, who were reportedly riding on a motorcycle, have not been identified. They escaped while praising Allah, according to the news service.
Samad was an outspoken atheist who criticized radical Islam and promoted secularism on his Facebook page, the AP writes. It adds:
"A supporter of Prime Minister Sheikh Hasina's secular Awami League party, Samad also took part in the movement that successfully pushed for prosecutors to have more scope for going after suspected war criminals."
The Dhaka Tribune describes him as an activist with that movement, which is called Ganajagaran Mancha.
The perpetrators and the motive haven't been identified by police, the BBC reports.
Last year, at least four secular bloggers were hacked to death in Bangladesh and a publisher who worked with one of those bloggers was stabbed to death.
After one of those murders, the editor of the Dhaka Tribune, Zafar Sobhan, spoke to NPR's Robert Siegel about the rising tensions between secularists and Islamists in Bangladesh.
Source: npr.org