The ruling party-backed candidates win 21, BNP 12, Jamaat 2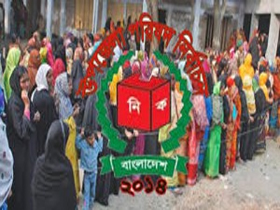 Awami League favourites took a clear lead in the battle of ballots in the 4th phase upazila polls held on Sunday, bagging 21 chairman posts against BNP's 12 as shown in the latest results.
Besides, candidates loyal to Jamaat-e-Islami, an ally of BNP, won in two upazilas while Jatiya Party-backed (Ershad) contestant in one upazila.
The upazilas that the AL-supported chairman candidates took are Itna, Katiadi and Mithamain of Kishoreganj, Faridpur of Pabna, Meghna of Comilla, Terokhada, Dacope and Batiaghata of Khulna, Sonagazi and Fulgazi of Feni, Tajumuddin, Daulatkhan and Manpura of Bhola, Kathalia and Rajapur of Jhalakati, Madhupur and Kalihati of Tangail, Bochaganj of Dinajpur, Kalaroa of Satkhira, Jibannagar of Chuadanga, and Daulatpur of Kushtia.
On the other hand, BNP-backed chairman contenders won in Betagi of Barguna, Madan of Netrakona, Akhaura of Brahmanbaria, Nalitabari of Sherpur, Shaharasti of Chandpur, Bhandaria of Pirojpur, Naikhanchhari of Bandarban, Phulbari of Dinajpur, Ramu of Cox's Bazar, Shalla and Dharmapasha of Sunamganj, and Harinakunda of Jhenidah.
The two Jamaat-backed contenders won in Panchbibi of Joypurhat and Zianagar of Pirojpur while the Jatiya Party-backed candidate in Tarail of Kishoreganj.
Meanwhile, a BNP rebel candidate won the polls in Bhairab of Kishoreganj while the JSS favourite in Zurachhari of Rangamati.
Earlier, voting in 91 upazila parishads across 43 districts was held amid widespread violence that killed four people in Munshiganj, Comilla, Brahmanbaria and Jhalakati districts.
According to the Election Commission, the polls violence also led to the suspension of voting in 32 polling stations in several upazilas.
The polling was held from 8am to 4pm without any break in the 4th phase of the staggered local government elections.
At least 11 chairman candidates, mostly BNP-backed ones, boycotted the elections in Bhola, Barisal, Chittagong, Pirojpur, Khulna and Jessore districts raising allegations of capturing polling stations and casting fake votes.
Meanwhile, Election Commissioner Mohammad Abdul Mobarak said they were satisfied over the Sunday's election.
"Though we tried our best to hold the elections peacefully, some stray and unwarranted incidents of violence took place that led to the suspension of voting in 32 polling stations today (Sunday)," he said at a press briefing at the EC Secretariat on Sunday evening.
A total of 1,186 candidates contested the elections against 273 posts in the 91 upazilas. Of them, 389 are chairman candidates, 485 vice chairman contenders and 312 vice chairman candidates for the post set aside for women.
The 91 upazilas have 13,859,278 voters, including 6,907,956 men and 6,951,322 women. There were 5,884 polling stations in the upazilas.
In the previous three phases, the Election Commission held elections in 293 other upazila parishads — 98 upazilas in the first phase, 114 in the second phase and 81 others in the third phase.
Source: UNBConnect