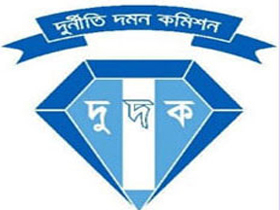 The Anti Corruption Commission (ACC) on Sunday approved a chargesheet against nine people, including former director of Rajshahi Medical College Hospital (RMCH), on charge of misappropriating public money amounting to Tk 3.25 crore.
The Commission at its regular meeting approved the chargesheet, ACC public relations officer Pranab Kumar Bhattacharya told UNB.
The chargesheet will be submitted against former director RMCH Brig Gen (retd) M Abdul Latif (president of tender evaluation committee); former deputy director Dr SM Abul Kalam Azad; proprietor of Fahima Medical Hall, Rajshahi, M Matiur Rahman; regional sales manager of Square Pharmaceutical Limited Anisur Rahman; regional sales manager of Acme Pharmaceutical Limited MA Mannan; deputy manager (depot operations) of Renata Limited; senior regional manager of Jayson Pharmaceutical Limited M Sahidullah; former regional manager of ACI Limited Sheikh Mohammad Ali and former director of Acme Laboratories Limited (sales and marketing) M Rafiqul Islam.
The anti-graft body also asked the authorities concerned to take departmental action against members of the evaluation committee Dr Iftkhakher Mahmud, Dr Tarun Kumar Chowdhury, M Mustafizur Rahman and M Shansuzzaman.
According to the ACC investigation, the RMCH invited tender to procure mitral steno-regurgitation (MSR)/equipment during 2009-10 fiscal. The tender evaluation committee of the medical college selected only six tenders among 20 tenders dropped.
All the accused in collusion with each other awarded work to the Fahima Medical Hall, Rajshahi, through tender manipulation although the Fahima Medical Hall quoted the highest price of MSR items in tender. However, the five pharmaceutical companies selected as responsive withdrew their tenders from bidding.
Although the five pharmaceutical companies withdrew their tenders, the tender evaluation committee did not call fresh tender. The committee gave work to the local medicine company violating rules.
On December 24, 2012, the ACC filed a case in this regard with Rajpara (MRP) Police Station in Rajshahi.
Source: UNBconnect