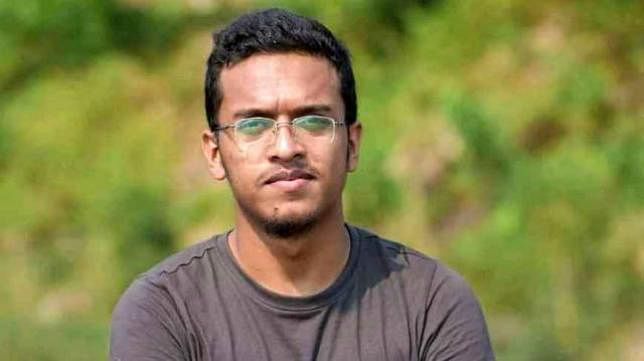 BUET students formed a human chain today protesting against Ashikul Islam Bitu joining online classes despite his expulsion in 2019 for his alleged involvement in the killing of Abara Fahad.
The protestors threatened to boycott classes from 30 May if Bitu continues to participate in online classes.
"We'll intensify our movement if the university does not take proper action over the matter," the protesters said in a written statement.
Bitu, who was expelled for life, reportedly joined an online class of the chemical engineering department last Saturday with a 'stay order' from the court.
After noticing him in the class, his classmates protested by changing their Zoom profile picture with the text which read "No class sharing with a murderer". They urged the university authorities to cancel his course registration and threatened to boycott academic activities otherwise.
Buet authorities expelled 26 students including Bitu permanently on 22 Nov 2019 for their alleged involvement in Abrar's murder. However, Bitu was not named in the police charge sheet and recently secured a 'stay order' from the court against his expulsion.
Bitu told UNB on 25 May that he had not been named in the charge sheet. "Buet expelled me for not helping in the investigation process. Recently, I got a stay order from the court against my expulsion and returned to class maintaining all procedures. But I won't join further classes in this situation," he said.
Abrar, a second-year student of the electrical and electronic engineering department, died after he was beaten allegedly by some Chhatra League men at Sher-e-Bangla Hall of the university in the early hours of 7 Oct 2019.